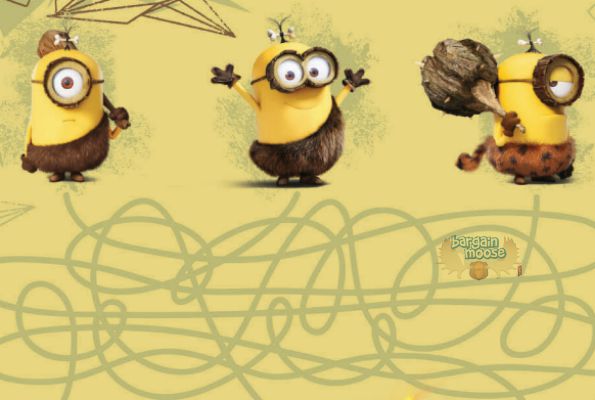 Psst, Bargainmoosers! Are your kids Minion crazy? Are you crazy for the little squishy guys too?  Head on over to Walmart.com and you can download and print FREE minion colouring and activity sheets. That should help beat summer boredom for 20 minutes or so.
Ba-Nah-Naaaa! Minions are hot this summer and loved by both kids and adults. Everywhere I look my kid is pointing out something else covered in one of these cute yellow guys, so I know she will love these Minions colouring and activity pages. Best of all I can skip a trip to the dollar store and print these out at home absolutely free.
These pages include:
20 colouring pages of Minions in various scenes
Three Mazes
Two Puzzles
These sheets are available from Walmart.com over the border, but no need to let the Americans have all the fun. We can download these free pages right from our couch here in Canada. It does not appear that Walmart.ca is offering these pages also, so you can only get them from Walmart.com.
If you want some more free colouring pages, Anna posted some free St. Patrick's Day colouring pages that also linked directly to Crayola's wealth of free printables. You may want to consider also downloading a few Back To School colouring sheets and print them all at the same time. I found some fun summer colouring sheets that are fun while you enjoy your last few summer adventures.  Crayola also has some Disney colouring and activity sheets including Tinkerbell, Woody from Toy Store, Pirates, Cars and Princesses. Brooke also linked to several other colouring page websites when she rounded up some colouring pages for Easter.
Colouring sheets are one of my secret weapons.  I pull out when we all need a little decompression time in the afternoon after a morning of summer fun. New sheets can be useful on that particularly mad day where I need to get dinner on the table and the kiddo will not stop whining.
Need some new crayons or other colouring devices? Keep an eye on our posts for Back To School deals so you can stock up on crayons, backpacks, lunchboxes and everything else you need for school.  Anna recently blogged some great deals on school supplies at Toys R Us Canada if you need extra colouring supplies.
Bargainmoosers, are your kids Minions crazy?