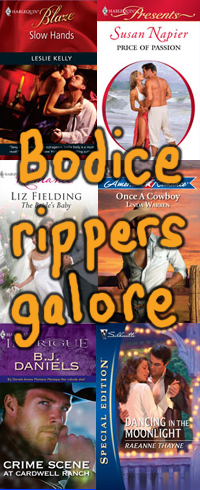 Harlequin publishers are celebrating their 60 year anniversary. As a promotion, they're giving away $60 worth of ebooks for free!
Click here to download your free ebooks from Harlequin Canada.
Here are the free books you can download:
Crime Scene At Cardwell Ranch

Slow Hands

Price of Passion

Baby Bonanza

Merline Lovelace

Hide In Plain Sight

Kiss Me Deadly

Homespun Bride

His Lady Mistress

Speed Dating

A New Special Delivery

The Bride's Baby

Once A Cowboy

Snowbound

Dancing In The Moonlight

Irresistible Forces
Some of the titles really make me laugh. Slow Hands? I can only imagine what that is about! Kiss Me Deadly? Maybe that's a kinky vampire novel. Irresistible forces? Turns out that novel is about a procreation vacation!!!
I recently bought a new Sony ebook reader, and it comes pre-loaded with a few books to get you going. One of them was a Harlequin book. I can't even remember the name now, as I deleted it as soon as I read it! The title was something to do with a baron, I think. Anyway, I read it as I've never read one of these type of books before. The books I read usually feature spaceships or wizards rather than young princes or wealthy barons (excluding Dune!). It was actually pretty boring, it wasn't very kinky at all! It seemed to be more involved with governesses' heaving bosoms than anything else. Maybe it just wasn't a very good example of the genre, but I don't think I'll be trying out any more! Back to my spaceships and wizards!
Hmmm that gives me an idea. Maybe I should write kinky sci-fi books, I reckon there'd be a market for that.