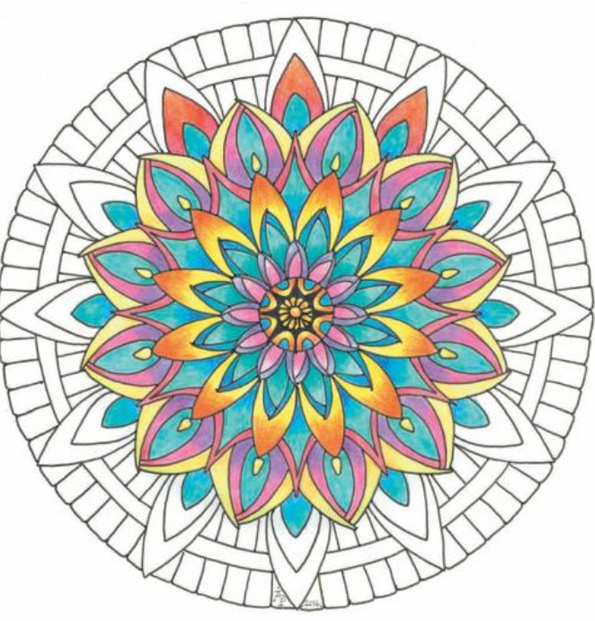 We first mentioned adult colouring books way back in July, here on Bargainmoose. Since then, they've just spiralled upwards into amazing popularity – they're really trending right now and they will definitely be a hot gift for Christmas!
And while on recent internet travels, I spotted a few pages from this book – Color Me Calm by Lacy Mucklow, currently priced at $16.91 on Amazon (11% discount). You can download these two pages for free and colour to your heart's delight:
If you print and enjoy those pages, then consider buying the book itself on Amazon.ca. You can click in the "look inside" link on the Amazon site and see more of the details and designs, to see if you are interested in buying it anyway. It looks lovely!
As I have the Alice colouring book, something I've been doing is this – before I colour a page, I pop the book into my multi-function printer, and do a quick photocopy of the uncoloured drawing. Then, my daughter sits and colours the same page as me – she loves it. In fact, as I was writing this very blog post and preparing the images above, she insisted that I print out the mandala – she's colouring it as we speak.
She's only five and the detail is a bit intricate for her, but she's giving it a good try. And in the last couple of weeks since I have been colouring with her, I've noticed a MASSIVE improvement in her hand-eye co-ordination and ability to neatly colour.
So, if you're a busy parent and wouldn't even consider sitting down and colouring – take 10 minutes to sit with the kids and give it a try on the above pages. You might be pleasantly surprised. :)
(Expires: never)