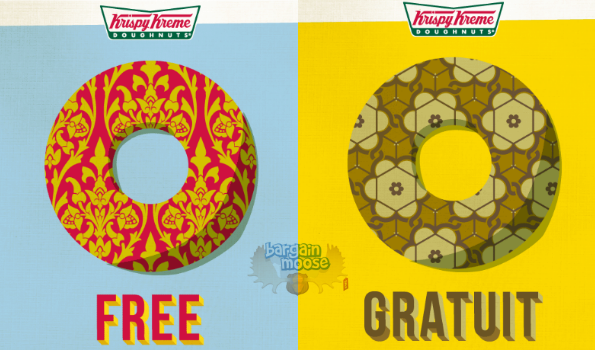 Yum! I like doughnuts for a treat, but they taste better when they are free. On Friday June 5th, head over to your local Krispy Kreme for a free doughnut, no purchase necessary.
Krispy Kreme doughnuts are light, fluffy and are beloved by many people. Where I live, the local Costco sometimes sells them in the feature sample spot. They always have warm and fresh free samples, which is the best way to eat a Krispy Kreme doughnut. I share grocery coupons with one of my neighbours, and she made a special trip over to my house to tell me several months ago that Costco was selling Krispy Kreme doughnuts that weekend. I did not prompt her or ask her to look out for doughnuts, she just loves them that much that she wanted to share the doughnut yumminess.
Now you can grab your own doughnut completely free. National Doughnut Day is in honour of the Salvation Army Volunteers. This event commemorates volunteers providing doughnuts to soldiers on the lines during WWI. Free doughnuts is a good way to remember these brave volunteers.
Your free doughnut is not limited to Krispy Kreme's famous original glazed doughnut according to the Facebook event. You can choose a doughnut in any variety. If you like the glazed doughnuts, I would suggest trying the Maple Glazed Doughnut. My daughter without a doubt would pick the brightly coloured sprinkle doughnut. My husband would pick either the Cinnamon Apple filled doughnut or the Apple Fritter. Your choices may vary based on what is available at your location. You can see all the flavours on the menu at the Krispy Kreme website.
I looked at where the Krispy Kreme's are located, as I too would enjoy a free doughnut tomorrow. According to the Krispy Kreme website, there are locations in the following places.
Ontario
Toronto Downtown (2 locations)
Mississauga
Quebec
Quebec City
Greenfield Park
British-Columbia
This promotion lasts all day. Like most bakeries, you will have the best selection if you head over earlier in the day. I think they bake some of the doughnuts throughout the day, but I would guess most are baked in the morning. Maybe if you are lucky your treat will be waiting there for you warm, just out of the oven. I need to stop blogging about delicious doughnuts now before I go buy one. The freebie is not until tomorrow!
(Expiry: 5th June 2015)