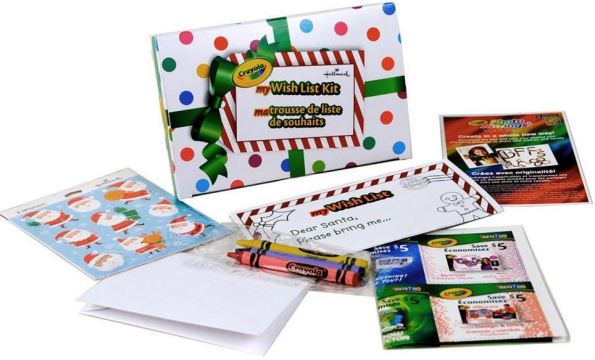 Christmas is around the bend, and you may already be considering what items are on your little one's wish list, right? Well there is a super adorable My Wish List Kit available at Toys R Us Canada stores, and guess what? The My Wish List Kit by Crayola is completely FREE when you shop at a Toys R Us store.
Have your kids started making their Christmas lists? Why not snag one of these free My Wish List Kits by Crayola at your local Toys R Us Canada store. They are totally free, with no purchase required. Everything your kiddo needs to get started on their wish list is included in the kit. Isn't that awesome? More stores should offer items like this.
So, what does the My Wish List Kit consist of exactly? You're going to love the activities inside, and so will your child. There is a Letter To Santa, Crayola Crayons (of course), Stickers, and a few other things. The crayons can be used for colouring books and such afterwards as well, and we all know that Crayola crayons are the best choice. They colour nicely, they are harder to break and the don't colour in a chunky style on the paper. If you know what I mean, then you agree about Crayola being the best children's art brand out there (especially for Crayons).
No purchase is necessary to receive a free My Wish List Kit by Crayola at your local Toys R Us Canada store. You just need to head into your local store and request the kit. You will, however, be limited to one kit per child. At least they are not limiting it to one per household. If you have two kids, they won't have to fight over it. I also love that this kit is created by Crayola. Crayola has never let me down before and I am seriously interested in seeing what this kit is like. My son is only three and doesn't understand much about Christmas yet, but in some ways that is nice. At his age it really is about family and food rather than gifts and wishes.
Moosers, how do you prepare your child's Christmas Wish List every year?
(Expiry: While they last!)