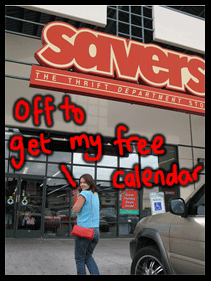 If you'd like to receive a totally free calendar from Value Village / Savers, just complete the short survey on savers.com.
Here's what they say:
A Calendar Coupon will be emailed to you a few days after our Survey deadline of Jan 2nd, 2009, redeemable at your local Savers/Value Village Store.
So sounds like they will email us a printable coupon, which we can them redeem in-store. For a half a minute's work, it sounds good to get $200 worth of coupons!!
You can of course tick the box to sign up to their mailing list – I sometimes get good offers from them by email, so this is a great idea too.
P.S. Why not order loads more free 2009 calendars here!
Thanks for the pic mike fischer!