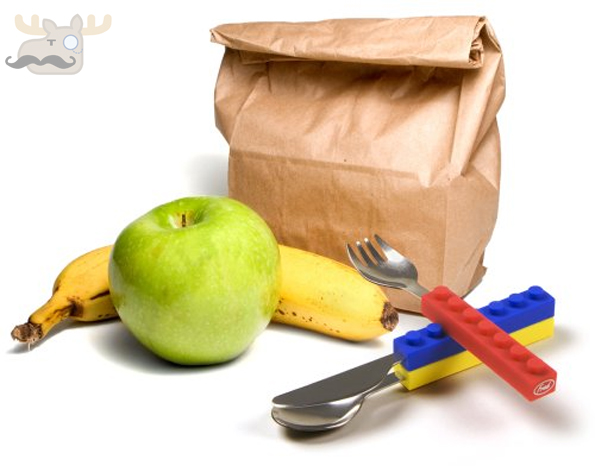 I am in LOVE with the Fred & Friends range of kitchen accessories which are currently selling like hot cakes on Amazon.ca. There are lots of cute and interesting items in the product range, and I want to own each and every one of them! One deal in particular that caught my eye today was on the Fred and Friends Snack N Stack Utensil Set – a LEGO themed cutlery set for little hands. It was originally priced at $20.50, but just now, it's only $14.52 from Amazon Canada themselves.
Got Amazon Prime? This item will ship to you totally for free, without worrying about any other costs. Don't have Prime and don't want to spend money on shipping? Order a few other gifts while you are on Amazon and make your order up to $25 or more to score free super saver shipping.
Isn't this cutlery set just adorable? My little ones would LOVE it because they love LEGO. While it's not actually LEGO branded, it is in the LEGO style in that the pieces can actually connect together! In the image above, it shows the cutlery in a lunch bag – this could be a great set to throw in your little ones lunch bag (but beware of it going missing)!
Do you have any toddlers to buy for, on your Christmas list? This would be an IDEAL gift, in my opinion. Pretty much every year, my little girls got a new cutlery set, whether it was Winnie the Pooh, or Frozen. Sometimes the little hands just cannot cope with the large cutlery, and these themed sets of knives and forks help have a bit of fun at mealtimes.
As for price comparing the Fred and Friends Snack N Stack Utensil Set with other online retailers in Canada, this exact same set is selling for $20+ at most other stores, with shipping fees on top of that. It's a super deal from Amazon and a good one to impulse-buy now.
There aren't many reviews on the dot CA but the dot COM is chocked full of positive reviews for this Fred and Friends Snack N Stack Utensil Set, with people stating that it was the best impulse purchase they've ever made. Go on – you know you want it!
(Expires: unknown)