Flare is one of Canada's fashion magazines, and there is a great offer on a yearly subscription right now. For only $12.95, you can get all 12 issues! Apparently, that is a 73% discount on the cover price of the magazine.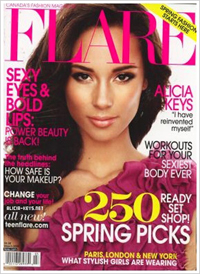 That works out at $1.08 per issue! Could be good for a bit of light reading.
However, if you're a Rogers customer, you can add Flare magazine to your bill for only $1 per month. Maybe you'd prefer it that way instead of taking the direct subscription. Well, it also saves you $0.08 per month! A grand total of $0.96 savings!
As you can see, there are a few others too choose from there. E.g. Loulou Canada, Today's Parent, Canadian Business, whatever tickles your fancy!
I don't read Flare magazine myself, but I thought this was a pretty good subscription offer so I've decided to share it with you guys. Do you read this mag? What do you think of it? Let me know in the comments below. :)