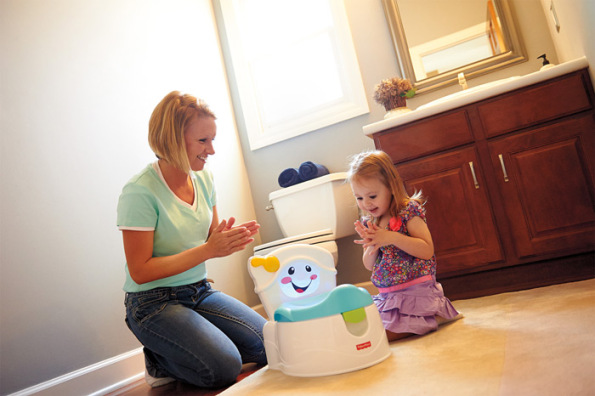 I was out shopping for a potty with my little one the other day, and realized that they can be quite pricey. For a potty that helps you reward your child you are looking at spending upwards of $40. So I set my mind on waiting for a good sale to get him one like that, and for the time being I just picked up a plain jane regular potty from Walmart. Well guess what? Now Toys R Us Canada has a variety of potties on sale for fabulous prices, and I could have snagged this Fisher-Price Learn To Flush Potty for the same price i paid for the plain potty. This potty has been put on sale from $39.99 down to just $23.87. You can either spend $49 to get free shipping, or use the free in-store pickup option and get your item today.
The Fisher-Price Learn to Flush Potty is adorable and resembles an actual toilet. That might make it easier when you are trying to convert your child from using the potty to using the toilet in the future. Potty training sure has been a roller coaster ride for me, but I am finally getting the hang of it. This Fisher Price Learn To Flush Potty definitely made it into my ToysRUs.ca shopping cart. For just $23.87 you can bet you won't find a potty of comparable quality and features for this low of a price.
The only down fall I can see in the reviews is that the pee guard is removable. The pee guard is definitely a must-have for little boys, and if it is easily removed then they may try to do so themselves. You could always super glue it or teach them to leave it alone, but I just wanted to give you a heads up. The Fisher Price Learn to Flush Potty will encourage potty training for man reasons. When your child uses the potty successfully, the Learn to Flush Potty will play music as a reward. When your child is done, they can get up and flush it to see the lights. The toilet will also exclaim "Yay!" when your child flushes it.
When it comes to shipping, Toys R Us Canada has free shipping when you spend $49. Their free shipping is finicky though, so if it does happen to give you a hard time then you can always opt to pick it up at your closest Toys R Us Canada store for free. Otherwise shipping will be estimated depending on where you live. Shipping was estimated at $6.02 for me, which really isn't bad. But I am sure you can spend $49 in total in the sale section, especially because Christmas is coming up.
(Expiry: Unknown)