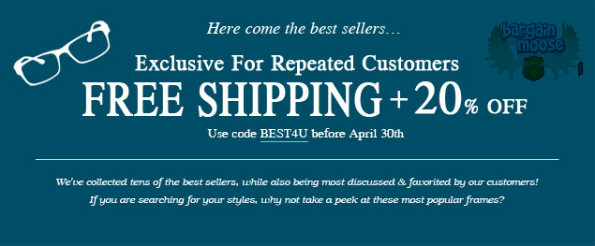 Been a long time Firmoo customer? Brand new to the awesomeness that is Firmoo? Doesn't matter, they've got a deal for you!
Click here to get your new glasses for cheap @ Firmoo.com
Coupon Code: BEST4U
Discount: 20% off + FREE Shipping
Expiry: 30th April 2013
I'm a repeat customer of Firmoo but I'm kind of Jealous of my past self. I'm jealous of past Shawn because he got a FREE pair of glasses from Firmoo. If you already has a past self who got FREE glasses from Firmoo, the coupon above is for you. We'll talk about that in a second though. Right now, if you are a past self without any Firmoo glasses I want you to go there and get your FREE pair. Just image how jealous future you will be! It'll drive future you crazy! You could even email a picture of yourself wearing them to your future self!  All you have to do is pay for shipping.
You hear how smug that past self is? Is that an email of your past self wearing the free glasses?! What a jerk. Well, you can't get a free pair but at least you can get 20% off and FREE shipping! Past self didn't get free shipping. Take that past self!
In case it wasn't clear in my mad ramblings, the FREE pair is only for new customers and the coupon can only be used if you are a returning customer. I should note that the wording of the deal almost makes you think it's only available on certain glasses but I tried it on a few random pairs and the coupon worked on all of them. Firmoo.com is in USD and ships from China.
(Expires: 30th April 2013)