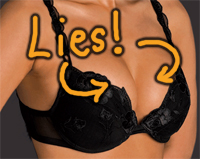 Ontario based website "Fashion Essentials" have released a rather handy promotional code for extra discounts in March.
To get the discount, make sure you paste the coupon code in the "special instructions/promotion information" box at the checkout.
They don't sell a load of stuff… but there are a few interesting items, such as "nipple covers" and "silicone shoulder pads." I was thinking "who needs silicone shoulder pads" in this day and age, we're not living in the 80s any more! But these contraptions are little silicone pads to stop your bra from digging into your shoulders. That's actually quite a good idea!
I heartily recommend the bust enhancers though. If you're a bit lighter on top that you'd like to be, buy a set of these to pop in your bra to give you some cleavage enhancement. They work – believe me, they really do! I don't have the confidence to post up my before and after shots for proof, but they definitely give me a bit more cleavage than evolution meant me to be showing.
You will get free shipping if you spend $50, which is quite a low threshold for free shipping, IMO.