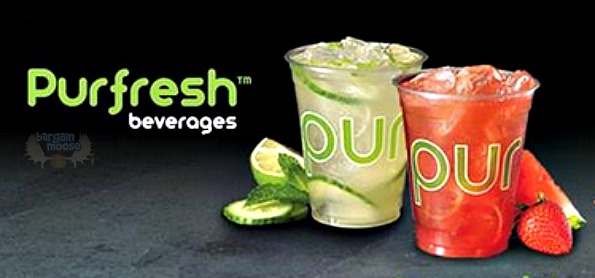 There is a pretty cool freebie event happening tomorrow at one of my favourite places to buy lunch. Extreme Pita announced on their Facebook page that they will be giving free samples of the Purfresh Beverages tomorrow July 17th, from 2pm – 4pm.
Here is how this freebie deal event will work. Head in to one of the participating locations listed above on the link above, and between the times of 2pm and 4pm tomorrow, you will get to try out their Purfresh drinks with no purchase necessary. This is actually the first time they are doing this free sampling event so it should be great! It looks like they will have a few different samples of these drinks for us to try out.
I love Extreme Pita because it is fast food, but it is healthy fast food.  There is a huge difference between the two.  I get lunch or dinner quick and easy for my family there and not have to worry about feeding my family garbage, high fat, high sodium and high calories for their meal.  They are one of the only places that have the calories listed for you plain and simple so you know what you are getting without have to ask or look for it.
If you have yet to try the food at Extreme Pita, you are truly missing out.  My absolute favourite lunch would have to be their grilled chicken pita. A small is just 241 calories and the regular is still only 366 calories.  They are delicious and very filling.  You can tell them what ingredients you want in it as well.  This is perfect for a picky eater like me who is fairly specific on how I like my food.
One of the other bonuses to eating at Extreme Pita is that instead of regular greasy french fries with your pita, they have homemade pita chips.  The pita chips are so good! They come in a variety of flavours and are a must to add to your lunch if you have yet to try them.  My go-to flavour would be either the original or the chili and lime. When I go there with my husband or a friend, we each get a different kind with our meal and then share them so we get more than one flavour.
(Expiry: 4pm, 17th July 2014)