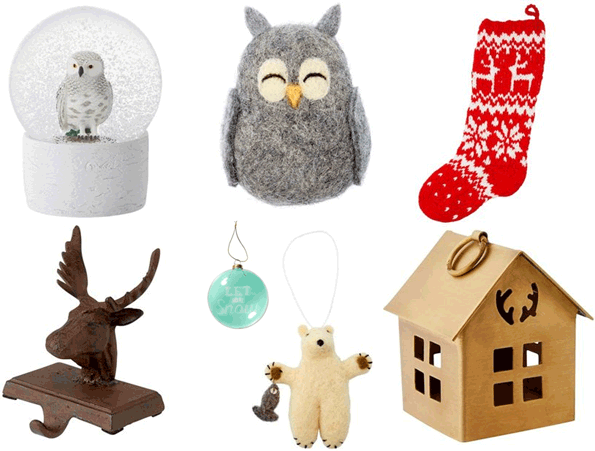 I'm on the lookout for new pieces of Christmas décor to add to my ever-growing collection. If you are too, then have a look at this lovely sale which is a continuation of the Black Friday sales at Chapters this weekend. Just now, you can save an extra 40% on holiday décor there!
Prices of the holiday decorations in this sale start from as low as $3.90, with many beautiful pieces available, from ornaments to snow globes. Shipping is free at Chapters if you spend $25 or more, as most of you are aware – and it's very easy to spend $25 there!
Here are some examples of the types of things which you can get today:
Mooses
Well, here's one piece that I just have to point out – the Woodland Moose Buri Ornament! Yay Moose! This piece is only $6 – I'd love this one for my tree. And I also LOVE this Moose Stocking Holder! This is something I have difficulty with each year – where to put our stockings. I usually just lay them on the fireplace, but with this moose stocking holder for $20.70, I wouldn't have that problem.
Owls
This Owl Snow Globe is really pretty too – it's priced at $17.70 just now. This would fit in well if you're having a Harry Potter themed Christmas like the one here! I'd love to buy it but I don't think I will – snow globes don't seem to last for long in this house. I've bought two in recent years, and each met an untimely demise, smashed all over the floors!
Lights
If you need a new set of tree lights, there are quite a few on offer there at Chapters, such as this 10 foot string of LED lights for only $14.70. I think I need some new lights this year actually. Last year, I bought a set of LED lights but they were "bright white" and I felt that they looked too harsh on the tree – I'm going to go for something softer this year.
Each year, I buy a few Christmas decorations that aren't cheap – only a couple of really nice pieces to add to the collection and cherish year-on-year. The above items in the Chapters sale are beautiful and would be perfect if you do this too.
Well Moosers, do you have your Christmas decorations up yet? I am putting mine up in the next week, I cannot wait to get the house all toasty and festive!
(Expires: 30th November 2015?)