Who wants to watch a movie? We want to give you the heads up for this upcoming week at Cineplex Odeon because we know it takes time to plan for a sitter if you want to have a date night this week.
From this Mon. Aug. 29th until Fri. Sept. 2nd, 'Every day is Tuesday' at select Cineplex Odeon Theatres. This means pricing is the same low price as it is on Tuesdays!
This offer is not available at every Cineplex Odeon location but you can check here to see if your nearest location is participating in this promotion.

If you're a Scene member, you'll also save an additional 10% on admission, plus concession. There's an app for Androids and iPhones that you can upload and install which saves you from pulling out a physical card every time you see a movie.
You could also take your entire family to the movies at these low prices. You could even save money on paying for a sitter, unless you have free babysitting offered through family or friends (in which case you should yes most definitely take them up on this free babysitting offer.)
Did you know that you can also earn Scene points at other places besides Cineplex Odeon such as Mark's Work Warehouse, Harvey's Restaurant and more?
So what does the pricing break down to? Well as an example (prices may vary) in Edmonton, AB, a regular weekend payment structure would be like this: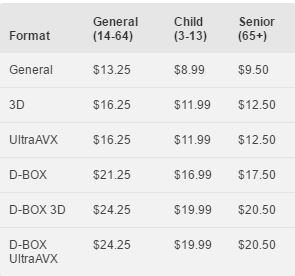 This coming week, when every day is a Tuesday (no hump day this week, sorry!) you'll be paying prices similar to this: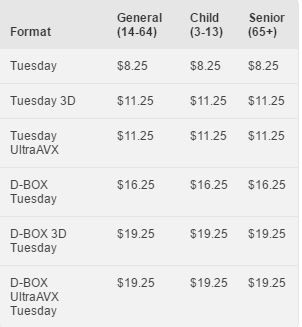 For a family of 4 with 2 adults and 2 kids, you're looking at paying $33 for movie admission instead of the usual $45 and that's not counting 10% off for Scene members. It's free to sign up!
I think it's time to make plans for a movie night. With savings on admission prices available this upcoming week, including on a traditional "4.0 family version with 2 dogs and a white picket fence", you're saving around 27% total.

Enjoy your movie!