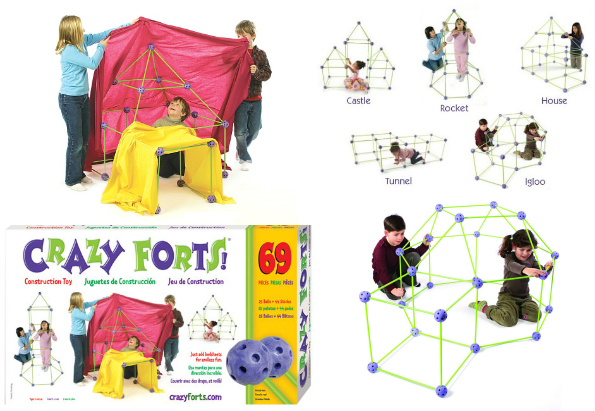 The coolest toy ever just went on sale and you will want to pick it up as a Christmas gift for your kids. The Everest Crazy Forts Set was originally $71.99, but it is now on sale for $25.98. That means you also get free shipping on this set of crazy fort building supplies.
Everest Crazy Forts is a fort-building kit that lets your child build the fort of their dreams: be it a castle, an igloo, a tower, or a cube. This is the original Crazy Fort kit that comes with 69 pieces: 44 reinforced sticks and 25 solid plastic balls. Simply connect the sticks with the balls to build the frame of a fort. After your frame is constructed, throw a couple sheets over the frame for an instant fort. The kit comes with everything you need - except bed sheets. You will need to provide that yourself.
I like this kit for so many reasons. First, your child can stop stealing the dining room chairs and the couch cushions for their fort building activities. Secondly, your child can build their own fort with these child-friendly pieces. The fort building kit encourages collaborative play where siblings and friends can work together on constructing a fort.
Now, reviews are sort of bipolar on this product. Some people say that it is hard to get the pieces to stick together so they were disappointed about that. Others say it is fantastic and works perfectly. This reviewer at FatBrainToys said:
I gave it to my grandson who turned 6 and he picked that out as the first thing he played with after opening all his presents. I read where this could be difficult because you had to follow the directions as to which holes the sticks go into. He jumped in by himself without using the directions and was able to make a fort immediately. It wasn't one that was shown on the directions but it was a fort never the less and he loved it. From there his imagination took over. He will get a lot of use out of this!!!
There is also a full review with pictures on Mommy Moments Canada of them using the set and building an igloo fort - I suggest you check it out.
I price compared this kit with Toys R Us Canada where it is currently $49.99 and with Best Buy Canada where it is currently on sale for $36.98. Amazon's price is the best.
(Expiry: Unknown)