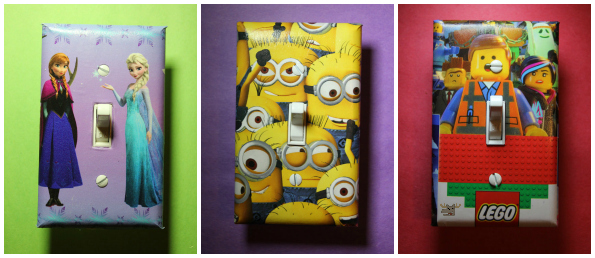 I am a pretty big geek myself and love to see 'geek things' becoming more main stream: like super heros, comics, and more. I was recently looking at cool Made in Canada items on Etsy and I ran across these awesome Light Switch Plate Covers by Recycled Comic. Light Switch Plates start at just $5.99 with shipping only $2.50. The choices are endless with LEGO, Minions, Frozen, Thomas the Train, and Avengers among the popular themes.
There is one of each style available so if one of the ones I link to sells out, just check out the rest of his stock. This awesome light cover incorporates two awesome fandoms: LEGO and Star Wars. This Lego Marvel Star Wars Luke Skywalker Yoda Jedi Light Switch Plate Cover is currently $8.49 with $2.50 shipping. If your kids are into The LEGO Movie, then this Lego Movie Light Switch Plate Cover might just be the thing for their bedroom. It is also $8.49 with $2.50 shipping.
Minions are HUGE right now with kids everywhere wanting to possess everything with the little yellow guys on it. This Despicable Me Minions Light Switch Plate Cover packs in all your favourite characters on one cover. At $8.49, it is an affordable and unique Minions gift. There are several other plate designs as well.
For Moosers on a budget, this Superman Comic Book Superhero Light Switch Plate Cover is currently only $5.99 plus $2.50 for shipping. Personally, I would splurge an extra dollar for either the Batman Superhero Light Switch Plate Cover or the Toy Story Buzz Lightyear Light Switch Plate.
This awesome Etsy seller also offers sets that come with one light switch cover and two outlet covers. For Spongebob fans, pick up this Spongebob Squarepants 3 piece Light Switch Plate and Socket Cover set for $19.99. Shipping is still reasonable at just $4 for this set. I like the sets the best myself as I like it when things in my bedroom match. As an adult, I would so purchase the My Little Pony Light Switch & Socket Cover set for my own bedroom.
I really like this shop because the light switch and outlet covers are super cool and the guy has a great story. He is currently taking care of his five kids on the night shift and making these from home in his spare time. If you are interested in a particular theme or a combination of items, you can always contact him directly for a custom order.
(Expiry: unknown)