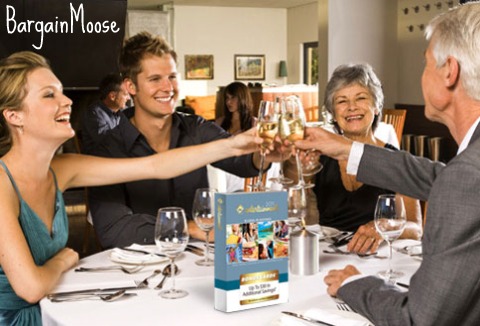 When you reserve your 2012 Entertainment Book before 15 February 2011, you save 70% off the retail price for a 2011 Entertainment Book ($35-$50). Sale prices for the books will vary between $10.50 - $15 US. There is still lots of time left to save with the 2011 book as the coupons are valid until 1 November 2011. With this sale price comes enrollment in the automatic renewal program for future Entertainment Books.
By buying the 2011 Entertainment Book at this discount price, you are reserving your 2012 Entertainment Book and signing up for automatic renewal.  You will get free shipping on your book and $5 off the retail price ($35-50, depending on location) of renewal books. Your Entertainment Book will be delivered to you in August, so that you can enjoy 15 months of savings for each year's book. You'll also get 10% off additional books that you buy for yourself or others.
The fine print:
Each year, we'll send you official notification (via email or regular mail) approximately one month prior to shipping your Annual Renewal edition. This notification will confirm your discount Renewal price (retail price varies by edition), the approximate ship date, the approximate credit card bill date and instructions on how to cancel your Renewal order, should you wish to do so.
If you do not cancel your Annual Renewal membership, Entertainment Publications will charge your Credit Card when the new edition is printed and ready to ship. If you return you book after receiving it, you will be charged a restocking fee. See our complete return policy on our web site.
If your Credit Card reaches its expiration date, your failure to cancel after receipt of our notification will constitute your authorization for us to continue billing your card.
If you cancel prior to receiving your first book through the Annual Renewal program (2012 Edition) your credit card will be charged a $5 cancellation fee to recover the $5 you are saving on your purchase today by enrolling in Annual Renewal.
This is my first year using an Entertainment Book. I've hardly made a dent in my coupons, but the ones that I have used have saved me the cost of the book and more.