Christmas is coming… and we know what that means… batteries!? Seriously, if you have a few kids, you'll probably be experienced in the Christmas day battery hunt, as new toys arrive that need power. That's why I think this Eneloop family pack of batteries and a charger is a really handy deal from Dell Canada.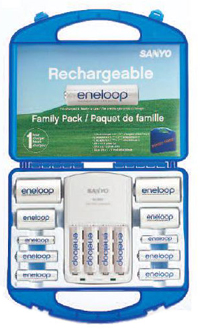 The family pack is priced at $24.99, which is a $15 saving on the regular price of $39.99. It consists of quite a few batteries in many different sizes (AAs, AAAs, C & D adapters). You can see you also get a charger too. These batteries also come pre-charged, so that means you can use them as soon as you receive them.
If you do not yet use rechargable batteries in your house… think of the environment! It's about time you changed over!
I swear by Eneloop batteries, they really are top-notch rechargables. In fact, I'm running a bit low, and I just ordered 8 more AAs today, to add to my growing collection!