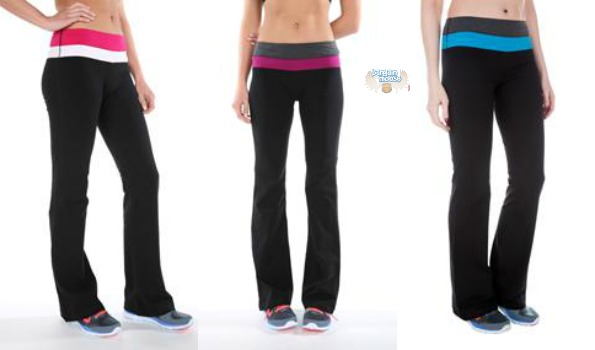 Yoga pants - probably the best invention of this century. While I am not one to wear my yoga pants to a party or every single day, there is a time and a place for yoga pants. You don't just have to wear them to yoga, but no matter what you paid for your yoga pants, do us all a favour and wear jeans sometimes too. Anyway, Eclipse has a really great deal on right now on yoga pants. Regularly $24.99, get them for only $15.99.
I'm going to say that $16 is a pretty sweet price to pay for these contrast waistband yoga pants. You could spend more - a lot more - on brand name pants, but sometimes it is nice to pay less than $20 for something you know is probably close to the same quality.
These are made with a cotton/spandex material so you know they are both soft and stretchy. These materials also allow you to throw them in the washing machine, which is a great perk, as with the other brands of yoga pants, you really can't do that or you risk them getting severely balled up (trust me, I know!).
There are five colour choices and it looks like every size is still in stock. You can choose from black with black (so no contrast), black with a blue and charcoal waistband, black with a viola and charcoal waistband, black with a white and charcoal waistband or black with a white and neon fuschia waistband.
While Eclipse normally has free shipping on orders over $50 or you'll pay $9 in shipping, we've got an exclusive coupon code that will get you free shipping at $30. This means if you buy two pairs of the yoga pants, you'll also score free shipping. Use MOOSEECLIPSE30 to get your shipping free at $30.
I think I'm going to go a little wild and get the neon and then go mild and get the black with white and charcoal. What are you going to get?
(Expiry: Unknown)