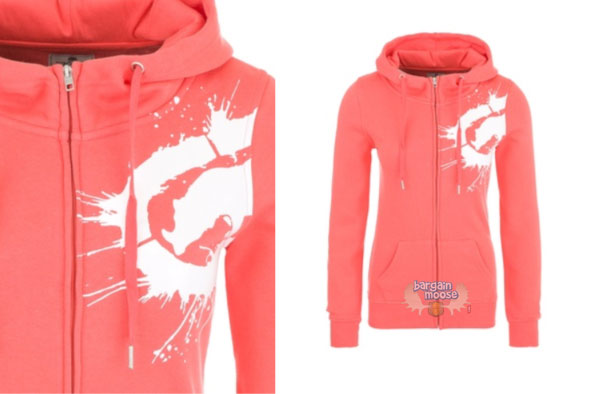 Just recently, Eva wrote about a $25 polo deal at Ecko but they are now offering an additional 30% off all sale items as well, among which you can get this fabulous-looking red side rhino hoodie, or hoodzip as they refer to it, for just $21, which was originally on sale for $30 (reg. $60). The additional discount will be taken off at checkout.
I have never been particularly fond of big brand logos on the front of clothing, but I really don't mind it on Ecko's rhino hoodie as it actually looks quite fierce! Even better is that although I would expect a hoodie like this to be made entirely from polyester, it surprisingly has 60% cotton.
For the past couple of months, I have been rocking the same zipped sweater when the occasion calls for it because it's just so comfy but since it doesn't have a hoodie and the weather is set to become chillier soon, I would definitely prefer to have a hoodie for the windier days. According to the description, it is a standard fit but judging by the picture, it does look somewhat fitted.
Speaking of fierce, I also found this really awesome looking rhino lux t-shirt, which instead of featuring any kind of Ecko logo, displays instead a very mean-looking rhino on the verge of attacking anyone in front of him! On sale for $38, this t-shirt comes down to just $26.60 at checkout.
Just in time for back to school I also spotted the Ecko Unltd. Perf Pu zipper bag. Ecko doesn't list a regular price for it but I'm assuming it's already on sale because its $35 price is in red font and a $10.50 discount gets applied at checkout. This means you can get it for just $24.50, which is definitely a fantastic price to pay, especially for an Ecko-branded bag. For some reason, Ecko's site also doesn't list a description for it but looking at the picture, it looks to be a regularly-sized bag and even has a pocket on the front. It also looks big enough to fit a laptop with a couple of books as it's wide. I also like that it looks like it could stand on its own, depending on what you put in it.
Shipping is free on all orders over $80, but there is more than enough to choose and save on in the sale section for men, women and kids.
(Expiry: Unknown)