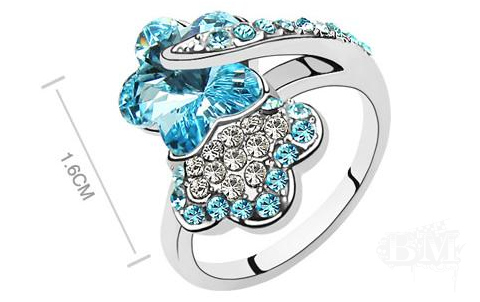 These Australian Crystal rings are so pretty, I couldn't resist posting about them. Get 87% off when you buy a TABS Australian Crystal ring on eBay. Worth $130, only pay $16.95. You have 5 different colours to choose, from and the ring sizes range from 5.5 to 9.5 so no need to resize after.
My favourite colours are the green, and the blue topaz. So, so pretty. Would make wonderful gifts for your girlfriends, female relatives, wife, daughter, mother.. etc! I think I might buy one for myself: just because. So pretty, and at an amazing price.
Austrian Crystals are made from molten glass that is hand blown to the desired design. The unique steps and important techniques to make these gems that are used in the TABS jewelry line is what makes them so beautiful, and is also what gives the Austrian Crystals we use their shine, shimmer and gleam, just like a real diamond.
You receive free shipping across Canada, and $0.35 back in eBay Bucks if you have signed up for that program.