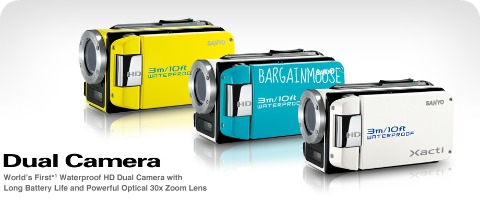 Once upon a time a Mooser mentioned that they wanted an underwater camera for Christmas. I wondered "why stop there?" This Sanyo video camera is 60% off, boasts 720p HD, 30x optical zoom with face chaser, image stabilizer and stereo recording. It is also waterproof to 10 feet under water. This model is considered not just a camcorder, but a 'dual camera' because of the functions it has. It is a camera and camcorder all in one!
To read the specs on the creature here is a link to it on the manufacturer's website: click here! The one Henry's is selling is the yellow one in the pic above. I was thinking about why a usual non-waterchild would like an underwater camera. I have come up with a pretty good list. If you have a husband, or kids, the following list may apply to why you want a waterproof camera/camcorder:
snow banks
the pool
left outside overnight
lakes, rivers, streams, ponds
the toilet :-D
Comes with free shipping and a 1 year manufacturer's warranty. Taxes will be charged as per the tax rate in your province.