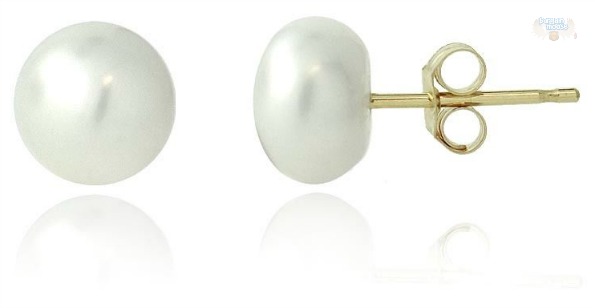 eBay Canada sports many fine bargains and jewelry deals. Right now you can pick up a pair of 10K Yellow Gold Freshwater Cultured 6-6.5mm White Pearl Stud Earrings for only $12.99 USD (approx $14.30 CAN) which have a value around $75. Seriously, try and go into your local jeweler and get that size of pearls on 10 karat gold studs and you will find the price substantially higher!
You get free shipping on these lovely little pearl earrings. They do ship in from Brooklyn, New York but since they cost under $20 you do not have to worry a bit about duty or customs.
The shape is semi-round and the size is really great for almost any size of female. They are not too big (and thus too heavy) and they are not so small they just disappear on the ear. Pearls are also the perfect earring because they look elegant and yet do not cost a fortune. They are classy and yet not outrageously pricy.
They also make a fantastic gift for a good friend, a lover, or someone you would like to be a future either one of those. They can make an equally good gift for your mother or your grandmother because pearls, like diamonds, are timeless.
Quantities are limited.
(Expiry: Unknown)