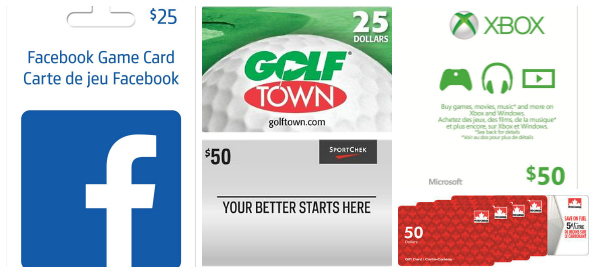 eBay Canada has been throwing its own Black Friday sale since yesterday and perhaps their best deals - the ones you cannot get anywhere else - are the discounts on gift cards. Pick up a gift card for up to 20% off its face value and receive free shipping of the physical gift card to your home.
I like gift card discounts because you save money before ever making a purchase in store. You can then combine the savings on the gift card with great sale prices in store (like on Boxing Day) to get more for less. There are discounted gift cards available for several different stores.
Give yourself or a friend credit on Facebook to spend on games, in-game purchases, and more. Save 20% on this Facebook Gift Card and receive free shipping.
This may be the most popular of these gift cards as you get to save 20% at SportChek before you even buy any gear! SportChek just had an awesome Black Friday Sale with up to 60% off, and they are sure to have a great sale for Boxing Day. Buy this card and use it this Boxing Day.
I do not live near a Golf Town but i do know they are a favourite store for golfers. If you have a golfer in your family, then be sure to stick this in their stocking this Christmas.
You get two choices for Xbox Gift Cards and your best deal is your larger card. You save 12.5% before even purchasing games, memberships, and whatnot. If your family is getting a new Xbox One this Christmas, then buy a discounted Xbox gift card to load up on games.
This Petro-Canada deal is back on. You save 5% on the actual gift cards and also get a preferred price card (worth $250 that gives you a discount on the fuel itself. Together, this is not such a bad deal. I like discounts on necessities and this is one way to get them.
Like previous gift card deals, this gift card ships inactive and you will need to activate it when you receive it. This is a safety measure so that someone cannot get your card and use it – you need to activate it before use. These gift cards, like the others we have posted, are sold by giftcardstore who has a very strong positive feedback rating (over 98%).
(Expiry: varies)