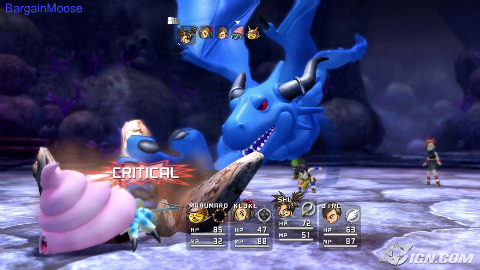 One of ebay's big deals worth mentioning is this Blue Dragon Xbox game. It is only $9.99 with free shipping! The game is brand new, sealed.. etc.
I did a price comparison with amazon.ca and it costs $34.99 on there, and the cheapest in the marketplace was $18 with shipping.
This game is RPG style and here is a little bio on it:
Famed game producer Hironobu Sakaguchi of Mistwalker game studio and developer Artoon present the highly anticipated Xbox 360-exclusive Blue Dragon. Featuring the character design of Akira Toriyama (who designed Dragon Ball Z) and music by Nobuo Uematsu (the composer for Final Fantasy), Blue Dragon is an epic RPG centered on a young boy named Shu and several of his friends. These unlikely heroes possess miraculous strength and magical power to control phantom shadows that mirror the actions of their masters.

Shu and company must use their shadows as weapons as they battle the evil forces and an antiquated human race of people who command a magical power thought to have perished long ago. Shu and friends must wield their skills to save their world from impending doom. Encountering various people on a planet with numerous ancient ruins, the characters and their shadows travel through a world full of mysteries and illusions, where the slightest touch can cause reactions of unparalleled magnitude.
Sounds cool. Wish it was for PS3!