Attention Costco shoppers! The weekly sales flyers for Costco are out and I thought I'd point out a few great deals from their East and West Coast flyers. It can be tricky to keep up with deals at Costco, since they rarely post their sales items anywhere, so unless you're walking the store and hunting, you can easily miss something really great.
East Coast Sales for March 21-27: Ontario, Quebec, New Brunswick, Nova Scotia and Newfoundland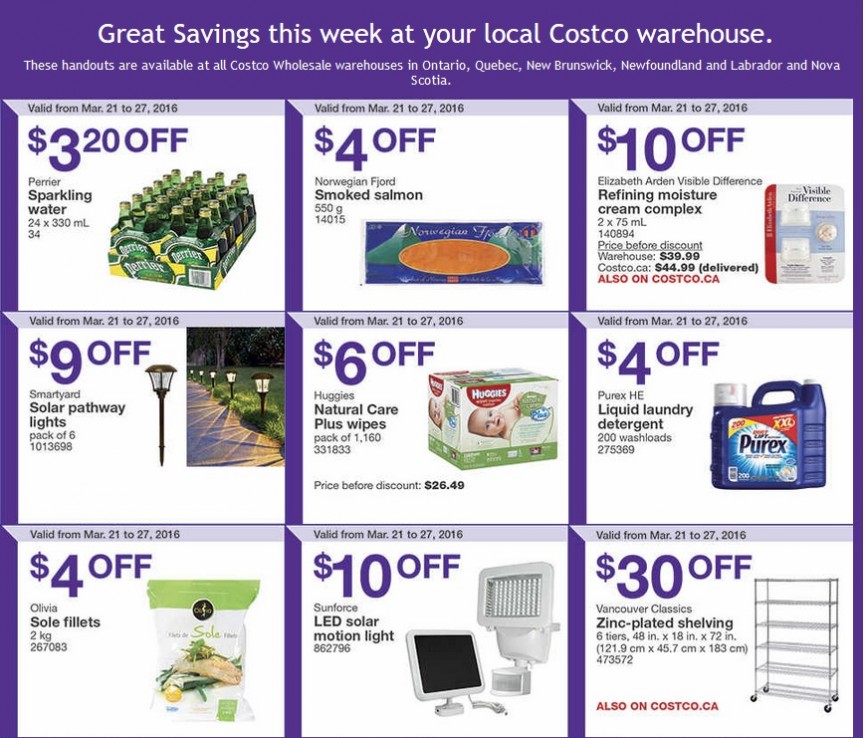 Flyers are available in store, but here are 10 sale items you might miss if you don't make the trip this week:
Huggies Natural Care Plus wipes are nice and gentle on bums, and we all know how many of these you can tear through with babies and small kids around! $6 off of $26.49 (in store only)
Dare Assorted Crackers, 5 pack—a staple in our house! You don't want to know who fast we tear through these boxes. $2 off of $8.99, that's $7 for five boxes (in store only )
Evenflo Symphony DLX All In One Car Seat is now $50 off it's regular price of $249.99—my parents have this seat for occasional use and love that it can grow with the kids. Reviews are good and the kids find it very comfy
Scotties Premium Facial Tissue is another staple in my house. We've a box in every room, especially during cold season. I'd make the trip to the store just for this deal alone. $5 off of $19.99
Royal Chinet paper plates—stock up for dining al fresco season? $4 off of $15.99 (in store only)
Sun-Maid Raisons—here's another item we can't keep in stock at home. We use them in lunches, oatmeal, snack cups... right now you can get 2x550 gram boxes for $5.49, that's $2 off regular price. (in store only)
Elizabeth Arden Visible Difference Moisture Cream—a little something for mom? I love a good deal on skin care. This 2-pack is $10 off it's regular price of $44.99
Ziplock Sandwich Bags, 4x15o are $3 off of $14.99
Quaker Chewy Chocolate Chip Bars are $2.50 off of $11.99
Norwegian Fiord Smoked Salmon—a nice pick if you're entertaining this Easter weekend. $4 off of $16.99
West Coast Sales for March 21-27:BC, Alberta, Manitoba and Saskatchewan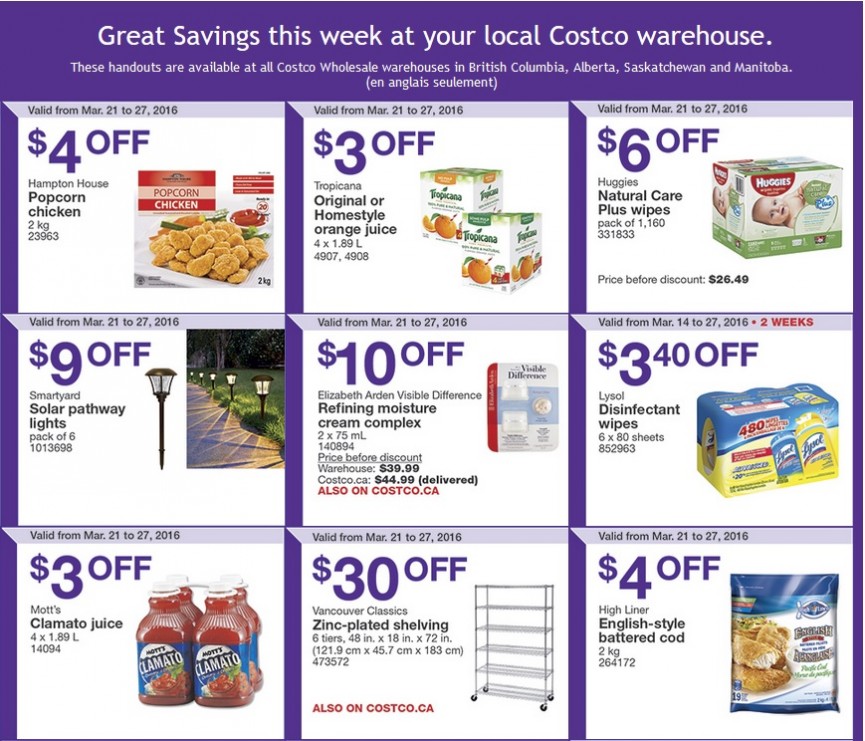 Here are fantastic sale items if you're on in the west:
Huggies Natural Care Plus—again a must-have item, $6 off of $26.49 (in store only)
Smartyard Solar Pathway Lights, 6 Pack—I know I'm not the only thinking about sprucing up the yard and more than ready for outdoor living! Scoop this garden lights up for $9 off of $44.89! (in store only)
Zilotek String Lights, 48 ft—while we're lighting it up, love these cool string lights, now $10 off of $59.99
Mott's Clamato Juice—Caesars for Easter brunch anyone? $3off (in store only)
Swiffer Dusters—cannot live without them! $3.50 off a 24 pack, regular $18.79
Lysol Wipes—the spring cleaning tools continue... $3.40 off of $16.99
Duracell 48 "AA" Batteries—because we all need them all the time! $5 off of $24.89 (in store only)
6-Tier Commercial Shelving—use these in your basement, garage, I'd even put them in the kitchen for an industrial look and tons of extra storage. $30 off of $119.99
Fletchers Black Forest Ham—another popular Easter feast item, these full sized hams are $6.50 off each, regular price depends on weight. (in store only)
M&M's Speckled Eggs—perfect size for the bunny to hide! This 1.2kg bag is $3 off of $12.99
Remember, a lot of these items are only available in the store, so if you're making a run before the holiday, make a note to check them out! Online items may also be available in store, which will save you shipping and handling fees (which are included in the online price) so check that out too! Prices are subject to fluctuate by store location.
Let us know what you score this week and happy shopping!
(Expires: March 27)