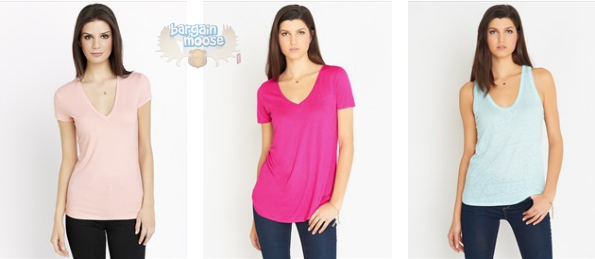 *** When we first wrote this post, these tops were $5 with free shipping. But just now, with the coupon code DYNAMITE25 - they're now $3.75 with free shipping! WOOT! ***
Dynamite Canada's sale section is full of fantastic deals on clothing and accessories. I found a stack of women's t-shirts on sale for just $5$3.75 each, which is up to 75% off 81% off their original prices. Combine these sale prices with Dynamite's free shipping with no minimum promotion and save big!
With this sweet sale at Dynamite Canada, new clothing can fit into any budget - including yours. There are seven tops to choose from and they are each only $3.75.
First, this High Low V-Neck Tee comes in two colours: vintage cheetah and yellow floral. The yellow floral is by far my favourite; it reminds me of buttercups on a sunny day. Originally $19.95, this t-shirt is on sale for $5$3.75. Sizes extra-small through large are in stock.
This Fitted V-Neck Teein pale dogwood is a popular choice as there are only two sizes left: medium or large. Originally $19.95, the shirt is on sale for $5 $3.75. This Burnout T-Shirt is even more popular with only size extra-small still available.
I think this Fitted V-Neck Tee (winter sky mix) is a nicer colour than the pale dogwood version above. If you agree with me, then you will be happy to know that it is available in all sizes (except extra-large). Like the one above, this shirt was $19.95 and is now $5.
I rather like the cup of this High Low V-Neck Tee (eighties pink). I like how low it comes in the back as it would cover my butt. I always want my butt covered when I wear leggings that have a seam right up the rear. Originally $19.95, the shirt is on sale for $5 $3.75. Most sizes are still available.
This Linen Tank is my pick of the entire sale. This simple and airy tank top has a good length and comes in a plethora of colours: yellow, blue, white, orange, and purple. All the colours are nice pale versions of themselves: they are perfect for summer. Originally $19.95, they are now on sale for $5 $3.75 each.
While not quite as discounted as the above shirts, the V-Neck Cami receives an honourable mention for being a great layering piece and 50% off. Originally $9.95, the top is now $5 $3.75.
Once you add free shipping on to shirts that are already 75% 81% off, you have a fantastic deal!
(Expiry: Unknown)