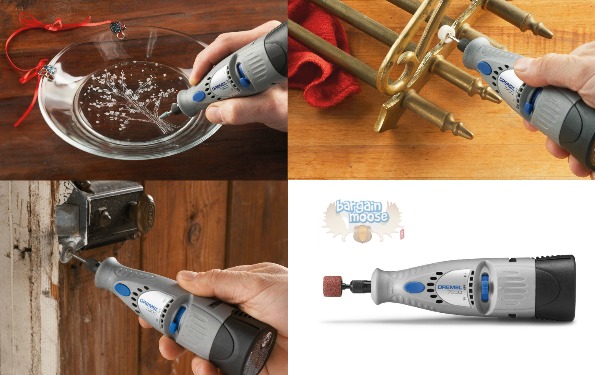 Pick up this snazzy cordless rotary tool today at Amazon.ca and get a jump on your list of DIY projects. This handy tool was $51.50 but is now only $20. This item qualifies for free super saver shipping with a minimum purchase of $25.
Dremel is known in the tool space for producing high quality rotary tools. In fact, I have only known rotary tools to be called a Dremel.  It is similar to Xerox, Crock Pot or Chapstick where the original product is such a great product it is known by the brand name. If you were curious, check out this great list of brand names people use as generic terms from Mentalfloss. Dremel should certainly be added to that list.
This Dremel Minimite rotary tool comes with accessories, a wrench for changing the accessories, a charger and a handy case to keep it all together. The eight accessories can be used for a variety of work such as sanding corners, drilling holes, or etching and finishing your projects. This tool has two speeds to give you more control when working on delicate projects or projects that are harder to reach. This tool is also backed by the manufacturer with a two year warranty.
My favourite use for this tool is for jewelry making. This tool allows you to drill a hole in pretty much any small object, allowing you to turn it into jewelry. This is also great for finishing the edges of your projects. If you like to do DIY projects for your home or like to make crafty things, this is a tool that should be in your arsenal. Several reviewers have also mentioned using the sanders on this tool to trim their dogs nails, which is a use I had not considered.
You could pick up this Dremel rotary tool for $44.99 @ Homedepot.ca. You could also grab this same Dremel rotary tool @ Canadian Tire  for $49.99. I did find this item @ Walmartbut it is out of stock and priced at $44.97.  Sears.cahas a similar deluxe version with more attachments for $59.99.
This particular tool has great reviews overall. Several of the longer reviews talk about trimming dog nails, but here is one reviewer using the tool for a variety of projects.
Our second one and it works great. Compact and powerful enough for our needs. Very versatile with an assortment of uses.
I would grab this rotary tool now while they still have them in stock. Dremel is a well-known brand for rotary tools and this price is a steal. Throw a smaller item in your cart for free shipping and grab this item now.
Not sure what else to grab to qualify for free shipping? You may want to consider looking at some of Amazon's add-on items. Add-on items are lower priced, smaller items often at great deals that only ship with a super saver shipping order over $25 total. It is a great way to get two deals instead of one for an extra bonus.
(Expiry: Unknown)