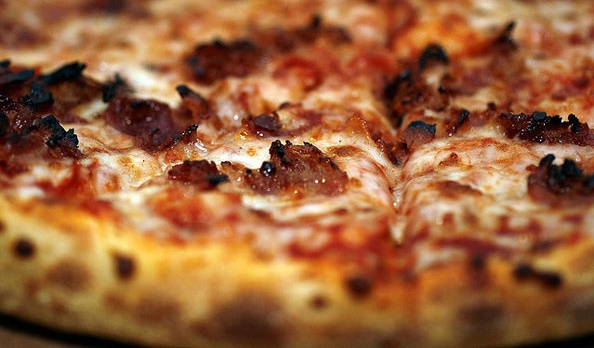 *** BUMP - coupon code is back again, just in time for the weekend! ***
Grrrr.... writing about pizza deals sure does suck, especially when there is a picture of a delicious-looking pizza staring at you in the face, practically screaming: "you know you want me!"
In all seriousness though, if you don't know what to eat for dinner, then here's a great deal from Domino's. You can use the coupon code below to get a large 2-topping pizza with a 2L Coca-Cola product for just $9.99. This offer is valid through November 2nd, 2015 which means you can even enjoy this delicious deal for Halloween.
Click here to order pizza @ Dominos.ca now
Coupon Code: 4049
Discount: $9.99 for large pizza & 2L Coca-Cola product
Expiry: 10th February 2016
Usually, all Domino's coupon codes are visible in their "coupons" section but I actually couldn't find this one. It's possible that it depends on your location but in any case, I tested out this coupon and it does indeed work. Here's proof:

Before entering the code, the pizza came up to $15.49 and I also didn't have to add the Coke beforehand. As soon as I entered the promo code, a pop-up appeared asking me to choose a beverage between a Coke Zero, Coke, Diet Coke or a Sprite. Personally, I rarely drink any soda anymore but I don't mind taking advantage of offers like these that include a soda as I simply stow them away for when guests come over. Do make sure that you get your soda though as the last time I ordered from Domino's, they forgot to give it to us!
To order your large pizza, you need to click on "entrees" and then "build your own pizza". Don't make the same mistake as I did though: before clicking "add to order", don't forget to select the kind of crust you want and of course the size from under the giant picture of the pizza. Then click "next step" to select your cheese, sauce and toppings.
Here's an awesome tip: when choosing your sauce, you can select "extra" from the drop down menu to get extra sauce at no extra cost. Sadly, this little tip won't work with the cheese or the topping though -- trust me, I've tried!
When you go to check out, you will also be offered parmesan bread bites for just $2.99. At that price, you actually get 16 of these little bad boys, so it's definitely worth it. I haven't tried them yet but they look absolutely scrumptious from the picture.
(Image Credit: Dennis Miyashiro)