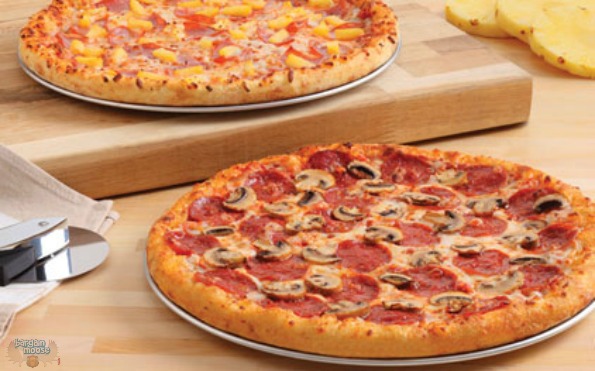 Domino's Pizza Canada has a new promo code that will get you two medium two-topping pizzas for just $7.99 each.
Click here to order two delicious pizzas right now!
Coupon Code: CAXT8WM6
Discount: Get 2 Medium 2 Topping Pizzas For $15.98
Expiry: Limited Time Offer
Sometimes the last thing you feel like doing after a long day is cooking supper. Luckily, I don't have a family to feed, so if I don't feel like cooking I just don't! But I know that's not that case for most of you, so why not take the night off and order a pizza?
Ordering online is very simple, and this coupon code is available for delivery and take-out orders. When you click on the above link, you can choose which option you prefer, and then you must enter your address. The next screen will give you your nearest Domino's locations, so select the one you'd like to order from.
Since the link is already activated with the coupon code, all you have to do is decide what crust you would like. Your options are Classic Hand Tossed, Crunchy Thin, Pan or Gluten Free.
Then, you get to pick two of the following toppings (and your toppings can be different for each pizza):
Pepperoni
Brooklyn Pepperoni
Sausage
Beef
Ham
Bacon
Chicken
Philly Steak
Cheddar Cheese
Feta Cheese
Provolone Cheese
Hot Banana Pepper
Black Olive
Green Pepper
Mushroom
Pineapple
Onion
Tomatoes
Jalapeno Peppers
When I tried to add two medium two topping pizzas without this promo code, the total was $25.98, so you're saving $10!
If you're in the mood for something a little different, check out our other Domino's Pizza Coupons.