The Shopping Channel is offering the popular coffee machine for only $139.98, and it comes with 80 capsules!
A bit about this machine:
The NESCAFÉ® Dolce Gusto machine by KRUPS® is a bit of a wizard. Just fill the machine with water, pop a capsule in the holder and in a matter of seconds you can enjoy a delicious hot or cold coffee (or iced tea) drink, however you like it, whenever you want it.
Includes: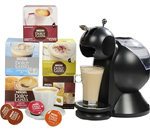 1 x Dolce Gusto brewer
1 x Variety Pack - 16 capsules
1 x Espresso - 16 capsules
1 x Caffe Americano - 16 capsules
1 x Cappuccino - 16 capsules (8 beverages)
1 x Ice Cappuccino - 16 capsules (8 beverages)
Bonus: glass cup, cappuccino cup & saucer
I tried price comparing this online, but can't seem to find a lot of places selling the machine itself. For example, I found it for $204 @ Amazon, $249 @ Espressoplanet, and $145 @ Newegg.  So it seems to be a good price from The Shopping Channel, considering you also get the 80 capsules too.
I think this deal might be for today only - order now if you're interested.
We actually own the red version of this machine. I didn't used to drink coffee at all, I really didn't like it. But we got this machine a while ago, and I found that I really liked the Lattés, so I ended up drinking a lot more coffee products than I used to. My partner ended up taking the Dolce Gusto to work with him, where he uses it instead of buying expensive coffees at the local coffee shop.
P.S. I spotted in another email that between the 1st and 15th of August 2010 - if you spend $150 or more, The Shopping Channel will give you bonus gift cards. It could be worth topping your order up to $150!
The anounts are laid out in this image: