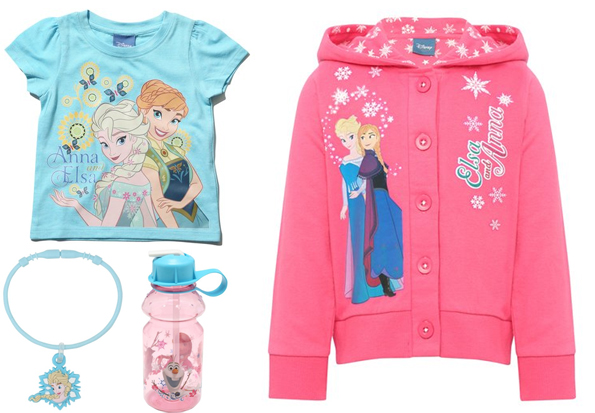 M and Co is an extremely popular UK based store which I've had on my radar for quite a while. I've just received an email to say that they are offering FREE worldwide shipping for a limited time only – this is a perfect opportunity to grab a few bargains! I noticed that there are some great prices on various Disney items, starting at only £2 (which is about $4 in Canadian money).
First up, there are some deals on Disney costume jewellery here:
Here are a few of the Disney clothing deals:
Want to hear something even better? Some of the above are also on BUY 1 GET 1 HALF PRICE – meaning they're even cheaper! Just add 2 or more to your cart and you will see the discount. E.g. You could get 2x Elsa tees for $18 including tax and shipping!! That's a fab price.
And here are a few other accessories for you to look at:
Currency & Taxes
When browsing on M & Co, you will see prices in GBP. To get a quick and dirty translation of how much this is in Canadian dollars, just double it up – that's roughly the current exchange rate. Or, you can use XE.com to get a more accurate exchange rate. Also, UK sites always include taxes in their prices shown, so you don't have to add taxes on at checkout.
Customs & Duties
In terms of customs and duties, if your order is more than $20, there's a small chance that you may have to pay additional customs fees at your door. While this is a rarity, it's always a possibility on larger orders. But as it's free shipping site-wide anyway – if you want a few items, just place individual orders to lessen any chances of paying any extra nasty fees.
(Expires: 1st November 2015)