Do you need a new vacuum cleaner? Fancy a Dyson? I've just discovered that they sell refurbs from their Canadian store online, and there are a few good deals to be had!
Now, the models shown seem to be slightly older models than their current ranges, but even so, they are still good prices, in my opinion as a deal hunter! Considering that you pay around the $500 mark for a brand new Dyson, forking out $270+ doesn't seem too bad.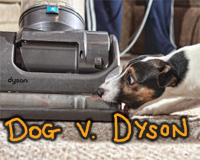 Plus, they come with a 2 year warranty, which is great news for any refurbished product.
Just to show you a price comparison, the DC14 from the refurb site is priced at $300, and the same model appears to be $500 from Futureshop Canada and Best Buy.
I added one to my cart to test it out, and shipping appears to be free as well.
There seem to be two camps about Dyson vacuum cleaners. One loves, and one hates. I've never owned one myself, so I cannot really comment on it's use in the home. However, I did use one to clean a store that I used to work in. I found it very cumbersome, and I didn't enjoy cleaning out the canister very much. But it did have good suction, and left the carpets looking good. I used the upright cleaner, but I think the cylinder cleaners look much more handy, much more manoeuvrable.
Thanks for the pic Emery and thanks for the email TheCheapGirl.