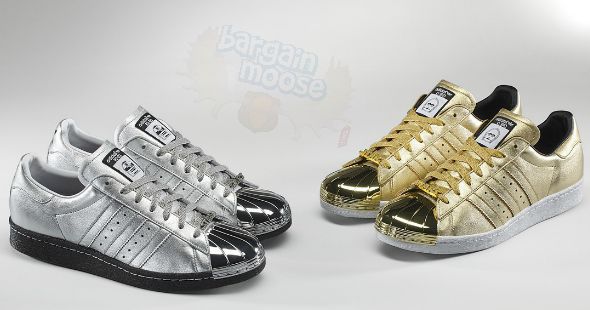 Star Wars fans, you better prepare for your jaw to hit the floor. Adidas Canada has just launched their new Stars Wars Shoe Designer. That's right. Star Wars shoes! Since Star Wars is in the title and you're already reading, then I assume you are a Star Wars fans. Design a pair of these Mi Star Wars Superstar 80's shoes with Star Wars images. These shoes will be completely unique to you, for as low as $135, depending on your customization.
The shoes start at $145 and will increase a little with different customization. So these shoes are far from a great deal price wise, but you are bound to be the only one you know with the unique pair you design yourself. So that right there is priceless. I mean come on, they are Star Wars themed! So here is a little breakdown of the costs as far as I can tell.
Base Material
Your base costs start at $135, but if you want to get more creative with the base material of your shoe then it is going to cost you $5 extra. If you want to keep your designs included in the $135 price, then you're going to have to choose between Tumbled Leather (variety of colours), Metallic Gold or Metallic Silver. The other prints with Darth Vader, Storm Troopers etc which $5 more.
3-Stripes
You can choose your colour of symbolic Adidas stripes at no additional cost. Choose between Metallic Gold, Metallic Silver, or Tumbled Leather in your colour choice. The tumbled leather has colours like black, white, tan, navy or grey.
Shell Toe
Personally, the Shell Toe is what completes this shoe for me. Although the Shell Toe does cost an additional fee. The Shell Toe comes in Metallic Gold, Metallic Silver and Metallic Black for $10. If you don't want to incur the additional $10, then you can also choose the $5 Shell Toes with Darth Vader or Storm Trooper on them. The shell toe that doesn't cost anything extra is a plain plastic available in black, tan or white.
Free Customization Options
Engraving - This is included in the purchase. You can get up to 12 characters engraved on your shoe.
Tongue Label - Choose between the classic Adidas logo or a Star Wars label for the tongue of your shoe. There are a few Star Wars characters to choose from
Lining - Choose the colour you want for the inside lining of your shoe.
Laces - Choose the Star Wars character you want on your laces, or select plain laces if you prefer. You can even select a free pair of extra laces.
Heel Patch - Choose your included heel patches. The options remain pretty consistent with the ones listed above.
Outsole & Stitching - Perfectly co-ordinate your colour scheme by finishing off your shoes with custom outsole & stitching
I am a little offended that at this price shipping is not included. While Adidas.ca says they offer free shipping on orders over $50, that is not the case with custom items. These shoes will cost you an additional $14.99 in shipping & handling charges. Boo Adidas! Other than that, these shoes are pretty wicked. What do you think?
(Expiry: Unknown)