DeSerres is having a brief sale that involves something that a lot of people have come to enjoy, wall tattoos. They are offering these Design Branches for only $24.95, originally $35.95. This is a pretty good deal if you look at other Wall Art sites and price out what their tattoos cost.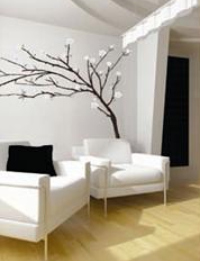 Shipping is $6 in Quebec and Ontario, $15 in the rest of Canada except the Territories, Yukon and Nunavut in which it is $30. There is free shipping on orders of $75, and I think that is really easy to spend at DeSerres, they are such a wonderfully artsy place! You could get an extra large sketch pad, also on sale, or a 12 graphite pencil set, nearly 1/2 price at $3.95. They have a TON of stuff on sale right now in their Back to School Sale!
Design Branches deal goes through Sunday, the 16th of January, 2011.