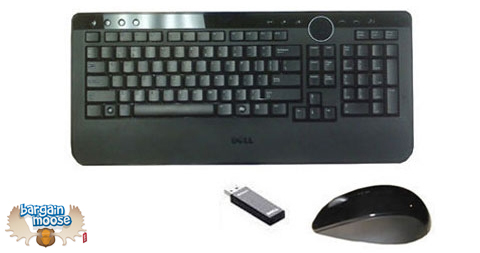 If you're stuck in the "wire age" and you're still working with a wired keyboard and mouse on your computer, then it's time to fork out $30 for this deal from Dell.ca (Tuesday, today only). They're selling the Dell Wireless Keyboard and Mouse Bundle for only $29.99 with free shipping.
The deal includes the keyboard, the mouse, and the USB adapter to get you up and running.
And don't forget this amazing selling point from Dell:
This keyboard features a set of 104 keys.
Thanks Dell!
I remember in the olden days when the wire of the mouse used to get snagged up on things, knocking over coffee cups, getting caught behind the computer. Now, I am completely wireless - I couldn't live without my wireless keyboard and mouse. Sometimes in the evening, I kick back and stick my feet up on my desk, slide my wireless keyboard over onto my knees, and browse lolcats to my heart's delight.