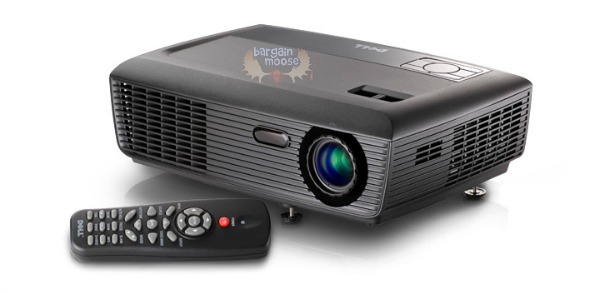 Dell is having a great sale on right now and one item that really stood out to me was the 1210S projector, which is $91 off, now only $299.99.
I think a projector is a great accessory to have, whether you have a business or not. We had one, which was well used, and eventually it broke (not a Dell brand). We used to watch movies in our basement and even in our driveway. The kids loved it! My husband built a makeshift screen out of a sheet and some wood, although you don't have to be that fancy. We had a "driveway drive-in" and invited lots of neighbourhood kids; it was a blast. Another time we had a video dance party in the basement.
Other than fun uses, projectors also have a functional use. This projector has on-screen navigation, a small remote control, and dual VGA-in connectors so you can switch presenters. On top of that, the lamp life is up to 5000 hours, you can add a safety and security password feature, and it consumes very little energy with its standby mode.
I tried to price compare, but found it difficult as every model is different. I know this model is the cheapest you'll get it around. I also noticed that other projectors were quite a bit more expensive. This could mean they have more features, but if you are looking for a good quality, inexpensive Dell projector, you've come to the right place. It will also ship for free!
(Expiry: Unknown)