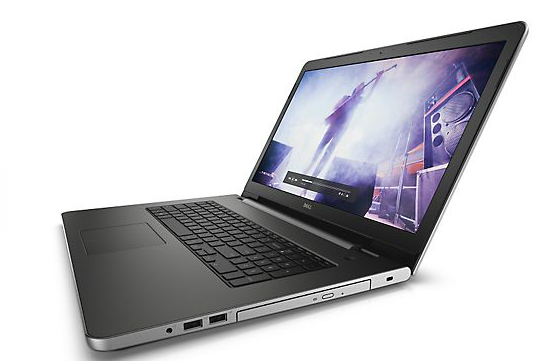 I am continuously on the hunt for laptops with i7 processors for under $800. Let me just say that they are few and far between. Thus, I was surprised to find this lovely Dell Inspiron 17" 5000 laptop on sale from $968.99 down to $799.99 with free shipping. Use coupon code5%off$500PCs to receive an extra 5% off your PC order, bringing the price down to just $759.99. As an added bonus, you will receive $40 back on a Dell Advantage card.
This is a one day deal from Dell Canada. If you are not familiar with laptop components, an i7 processor is the fastest processor you can buy currently.
Currently, processors are like a trifecta: the i3 is the little one, the i5 is your middle child, and the i7 is the big brother who is faster and stronger than its little siblings. While there are different quality processors within each size (i3, i5, i7), the i7 processor is considered the best. Laptops with one usually retail for around $1000.
This laptop comes with the following configuration:
5th Generation Intel Core i7-5500U Processor (4M Cache, up to 3.00 GHz)
8GB 2 DIMM (2x4GB) DDR3L 1600Mhz
1TB 5400 rpm SATA Hard Drive
That is an incredibly fast processor with enough memory to keep your speed up while and a huge hard drive to store all those games, movies, music, photos and more. Unlime Toshiba, Lenovo, and Sony... Dell holds back on the bloatware so you do not spend the first few frustrating days uninstalling every program you can get your hands on.
It is one heck of a unit and this price now beats out the previous 'best deal' I had seen on an i7 processing computer with a similar configuration. That previous deal, by the way, sold out at Microsoft within 48-hours of being posted. The only major difference between the two is a graphics card. The MSI deal at Microsoft had a NVIDIA graphics card (and also cost $809) and this laptop comes with a very good Intel HD Graphics 5500.
Now, that $40 cash back card is through Dell Advantage. You need to sign up for Dell Advantage (free) before placing your order. If you have not signed up for Dell Advantage yet, then click here to register. Especially on larger purchases, it is well worth the extra step. You will have $40 on a Dell Advantage card to spend over the next 90 days.
(Expiry: 16th July 2015 @ 6AM)