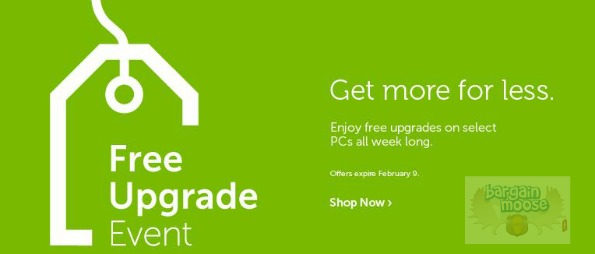 For one week only, Dell Canada is offering free upgrading on select PC computers.  This offer is valid until 10th February 2012. They also have a 2 part Electronics Extravaganza with limited quantities up to 60% off.
Here are some of the highlights for the Dell Canada Upgrade Event:
Inspiron 15RWas $719.99/ Now $499.99 (free upgrade to 6GB memory)
Inspiron 620 Was $804.99/ Now $649.99 (free upgrade to a 22inch monitor)
XPS 17 Was $1559.98/ Now $999.99 (free upgrade to BD-Combo)
Another cool event happening at Dell Canada is a 2 part electronics extravaganza. Round 1 starts today with select electronics on sale for up to 60% off the regular prices. This first round will be active until 7th February 2012.
I had a look at some of the deals and one of my favorite deals that I found was this digital photo frame with built in memory and remote on sale for just $99.99 (regular price is $199.99).  We got one of these for Christmas and I love them.  They eliminate the need for a bunch of photo albums and will display so many pictures so you don't have to choose between your favorites.
The second round of this sale will be on when the first round ends and will end 9th February 2012.  As always, supplies are limited quantities of each product so if there is something that really catches your eye make sure to scoop it up fast.
(Expiry: Various dates for all deals)