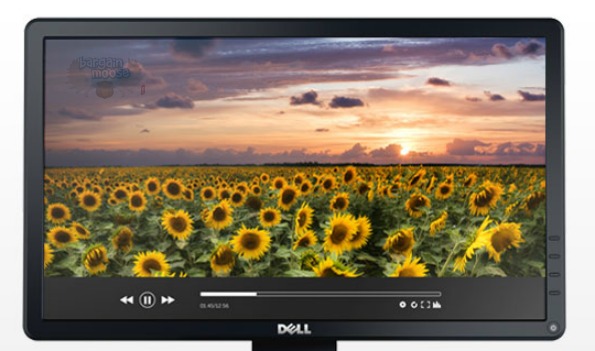 **BUMP - This deal is back on at Dell Canada**
I have not seen a deal on this monitor for over a year so I figured it was a good deal to post. Purchase a Dell 20" E2014H monitor for only $99.99 with free shipping. The regular retail price for this monitor is $149.99 $159.99.
Whenever a Dell monitor goes under $100, I always take note. While there are many brands of monitors out there, Dell monitors are known for their quality and they hold their value a lot better than other monitors do. I resold my hubby's basic Dell monitor for $40 when he got rid of his desktop when some people can hardly give away their monitors.
This monitor features a 19.5" display with 1600 x 900 optimal resolution at 60 Hz. The monitor is backlit by LED. You can adjust the screen by tilting it, but you cannot swivel it from side to side. The screen has both an anti-glare coating and a hard coating for a prolonged lifespan. That is one thing that drives me insane about my laptop, the glare off the computer screen is something awful. Even if I turn up the brightness, it does not eliminate the glare problem.
The 20" Dell monitor seems to be well loved by reviewers. One reviewer said:
So glad I choose this monitor to compliment my new dell desktop. The color display of the monitor is crisp and vivid. The monitor's adequate size allows for a display that is easy to view. My favorite feature though is the clear crisp colored display. I'd buy it again without hesitation.
All six current reviews give the monitor a full five out of five stars.
I expected the monitor to come with the usual one-year warranty that most products come with these days. However, the tech specs say that a three-year advanced exchange service is included. This is interesting, as I would think any problems you would find in a monitor would show themselves within the first few years. I am curious if this would include dead pixels; I expect so.
One commenter pointed out that this monitor does not come with built-in speakers. They still argued that this was a fantastic monitor for the price, but also said that one of the reasons Dell could keep the price so low was because of not building in speakers. However, the reviewer was still impressed enough to give a five star review.
(Expiry: 20th July 2015)