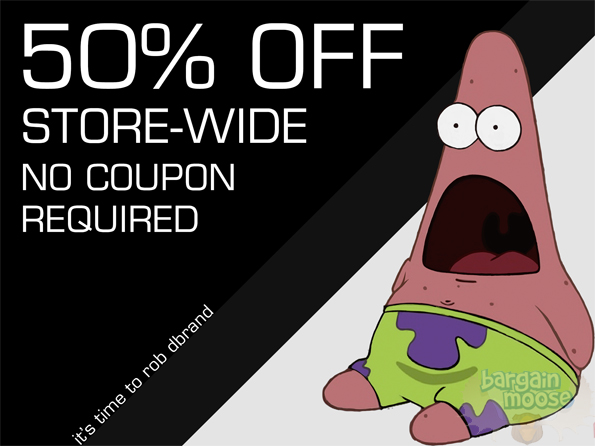 Dbrand.com sell premium skins for smartphones, tablets and gaming devices, using high quality 3M materials. They're an Ontario based company, they ship Canada wide, and this is the first time we've mentioned them here on Bargainmoose. For today only (UPDATE - still appears to be active on the 30th May), they're offering 50% off everything on their site – and this is quite a rare sale, so I thought I'd let you guys know about it!
The prices you see on site have already been reduced by 50%. Once you add something to your cart, you can see the before and after prices. You can buy Dbrand skins for phones, tablets, wearables, even gaming consoles and accessories. If you have any of those devices and you want to spruce it up a bit, check out the deals on Dbrand today.
Some examples of what is on offer:
If you have an iPad mini, you can buy a skin for $6
If you have a Google Nexus 5, the cost is $3.50
If you have a PS3, the controller skin is $6
The skin customisation process on Dbrand.com is extremely cool. I tested it out on an iPhone skin, to see the possibilities. There are some really funky choices for the finish; carbon fiber, matte, leather or metal, as well as a selection of various colour schemes. I'm particularly fond of the mahogany wood finish. You can choose different options for both the back, front or even the frame of your device. How about a red carbon fiber front, a gold metal frame, and a white leather back? No??
I really like the idea of personalising your skins like this, especially when it comes to iPhones. All iPhones look almost identical, so the main way that you get to show a bit of personality for them is the cover it's in or the skin you choose. Some people don't like using covers; either they dislike the extra bulk or want to show off the prettiness of the device itself. In the case of the latter, that's where a skin can come in useful. As well as adding a touch of personalisation, it also can protect the delicate screen.
Canadian shipping:
Shipping rates start at only $3, but it depends what you are buying. E.g. A skin for the Apple iPhone S only costs $4 and the shipping is then $3 on top of that. It's still a really reasonable total price – the 50% sale covers the cost of shipping on these low value items!
(Expiry: 29th May 2014)