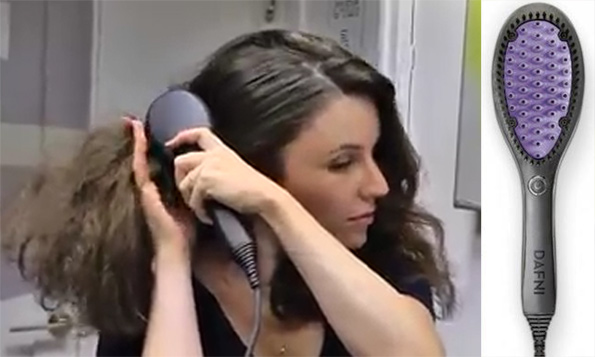 Last month, a little video went viral which showed a lady straightening her hair with a magic brush. Well, the brush wasn't magic but it was amazing – it was the Dafni straightening brush which you can see here in this video. Now, since this video went viral, the demand for this product has gone crazy all over the world, with it being very, very difficult to actually order. I'd found a Canadian store which is currently taking pre-orders for the Dafni brush (Showcase) – and you can order now!
Showcase Canada states that the Dafni brushes will ship this month, on the 25th of November. Therefore, that is plenty of time for you to get your Dafni brush in time for Christmas. The straightening brush is priced at $299.99 with free shipping.
The brush does look amazing – it heats to 185°C/365°F in seconds, meaning you can plug it in and start using it almost instantaneously.
I don't know if all the hype around these Dafni brushes is just that – hype . Or, if the brushes really are as good as they look in the video. Would you ever spend $300 on a straightening brush? I know there are some Moosers on here who definitely would NOT – but I am sure there are some who would. For me, I spent $200 on my straighteners which I've had for about 9 years now – so I can imagine that I would spend this on a new tool for my hair.
I also think that if you're looking for a gift for someone, these could make an amazing pressie… if you're willing to spend as much as that. For me and my partner, we usually spend a few hundred dollars on each other at Christmas time anyway, so I can imagine receiving these on Christmas morning!! * HINT HINT *
(Expires: unknown)