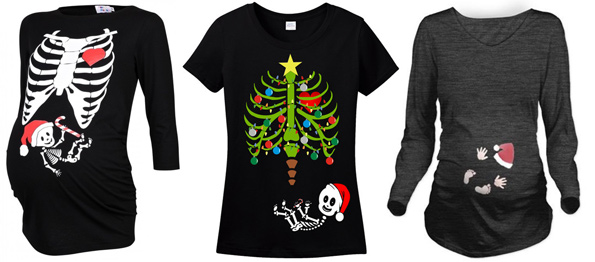 Know anyone who is pregnant? If you do, and are looking for a fun Christmas gift for them, then have a read of this thread! I've found some absolutely gorgeous Christmas maternity t-shirts which are both funny and fabulous. I myself would have LOVED to wear tees like this while pregnant over the holidays!
First up, the one that spawned the idea for this blog post – this is the Happy Mama Christmas maternity Santa baby skeleton X-ray tee which is on sale at Amazon Canada and pictured at the top left. How adorable is this! The tee is sold by a seller and shipped by Amazon Canada, and it's priced at $29.95 with FREE shipping.
Secondly, check out this quite similar Skeleton baby Christmas tee which is for sale on Etsy. It's sold by a Canadian seller and ships from within Canada, and you can get this bad boy for only $24.58plus shipping (which depends where you are). I love how they've redesigned the rib cage to become a Christmas tree here!! This tee is pictured above, the second one across.
Thirdly, have a look at this Santa Baby tee which is sold by Cafepress (pictured top right). This one is so cute too! It's priced at $60, and you'd have shipping on top of that which is quite steep ($19.50!). However, you can use the promo code FESTIVE25 to take 25% offCOZY40 to take 40% off the cost of the tee, which should help a little! Even though Cafepress ship from the US, The price at the end of checkout includes all taxes, duties and shipping so there are no more costs to worry about on top of that.
Finally, here's a cute one from eBay.ca – but a Canadian seller shipping from within Canada. This "looks like mommy gave Santa more than a kiss" tee comes to around $40 including shipping. It's in a white finish, and it's very cute too!!
(Expires: unknown)