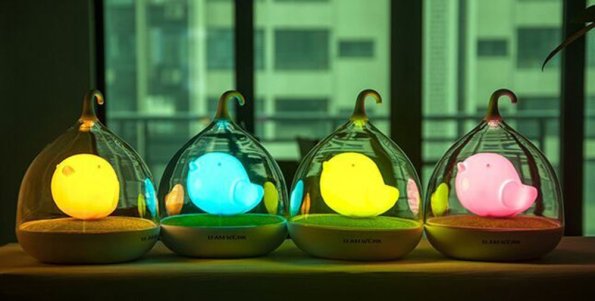 Awh, how adorable is this night light? Amazon Canada has the niceEShop Creative Bird Shape Sensor Lamp Rechargeable USB Night Light for under $21, and that even includes your shipping costs. I doubt you will be able to pass this item by. It is great for kids or adults who are young at heart. Even I want one.
This Bird Sensor Rechargeable USB Night Light is by niceEshop and is totally affordable considering the most expensive option is $20.59 including shipping. This adorable light is rechargeable and even comes with the cable and wall block. The cute light up bird is multi-functional and would be absolutely fab in the kids' room or even in the bathroom. If you are young at heart like myself, then you may even want this cute light for your own bedroom.
This adorable little bird lamp comes in four different colours, and the price flexes a little with each option. Here are the four options available:
Yellow - $19.99
Orange - $20.59
Blue - $19.99
Pink - $19.59
My favourite has to be the pink, and luckily that is the most inexpensive option out of the four. At least the prices isn't such a large variation that it would deter you from grabbing your favourite colour out of the four. My son is currently in potty training mode, and he can't reach the light switches! I would love to have something like this for the bathroom counter so that if he needs the bathroom in the middle of the night then he can just touch the lamp to turn it on, and he won't pee allover my floor. After all, you have to teach them young how to aim or they will grow up to aggravate their future wife by peeing on the site. Am I right? This bird light will turn on with a single touch of your finger and it is totally portable and made for convenience. The battery will last about 5 hours of run time, which is quite significant if you think about it. It also takes 5 hours to fully charge up again, but you can just plug it in where it is and it will still continue to work.
This particular item is sold by a secondary seller on Amazon.ca, so while Amazon Canada normally offers free shipping on all orders over $25, that is not the case for this item. This item is sold by niceEshop and shipping is included even though the price has not reached $25.
(Expiry: Unknown)