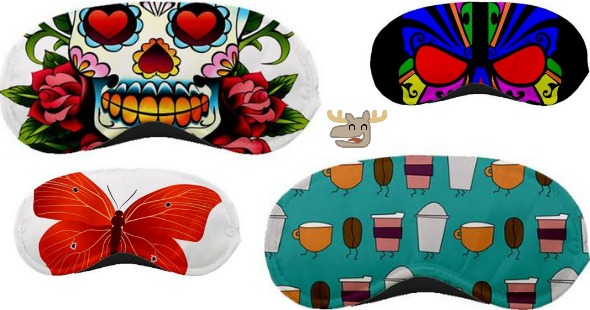 I feel like my mind is completely focused on stocking stuffers already! If you are looking for a better sleep, or a great gift for someone then look no further. Right now CowCow is offering a coupon code that will get your first sleeping mask for just $0.99 and each additional sleeping mask for $4.99. You could even potentially get free shipping.
Click here to shop @ CowCow.com now
Coupon code: Z099MASK7WDQP
Discount: Get sleeping masks for just $0.99
Expiry: Unknown
This offer even includes shipping for some parts of Canada. Other parts of Canada will need to pay $5.99 for shipping, which still is not bad at all. Especially when you consider that some of these masks can be originally priced between $13 and $25. You can even completely customize a sleeping mask, which makes this a fabulous personal item for incredibly cheap.I picked out a sleeping mask, clicked customize and then had some fun. I picked an image of my mom's dog after I removed the original image. That is the sleeping mask I ordered, and it will be a fabulous addition to her Christmas gift.
If you are not entirely creative but still want to snag one (or a few) of these sleeping masks, then don't worry too much. There is a vast collection of different sleeping masks available from CowCow.com for both men and women. From butterflies to camo to abstract images or rainbow tigers, I am sure you can find a sleeping mask to suit your fancy.
There were quite a few that I like, which makes it hard to choose just one for myself. My favourite has to be the Sugar Skull Sleeping Mask, I might just be a sucker for anything with sugar skulls on it. This mask is one of the cheaper options with the original price of just $13.99. That doesn't matter too much though, it will be just $0.99 after you apply your coupon code.
If you are looking for something suitable for your in-law or grandparents, then perhaps this Red Butterfly Sleeping Mask will do the trick. It is also a cheaper original price at $12.99, but still gets discounted to just $0.99 if it is the first mask in your shopping cart.
There are so many sleeping masks to choose from! How do you pick just one? Just remember that only the first sleeping mask is discounted to $0.99. Each additional mask is $4.99, and the shipping rate will increase with each item added as well. Still a fab price though.
Moosers, do you use a sleeping mask to help you sleep at night?