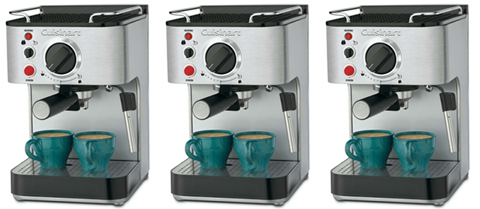 If you're looking for an inexpensive way to get your daily coffee fix, there's a pretty decent deal on the Cuisinart EM-100 Espresso Makerfrom Tigerdirect.ca. They are offering it for only $59.97.
Even though this is classified as a "refurb" model, it still comes with a warranty. It's not the full year sadly, it's only a 3 months warranty. But for this price, I think it is still a good deal. Shipping depends on where you live, you can just add your postal code in to the shopping cart and it will tell you the cost. I think it also depends on the weight of the item, and this is quite heavy.
The same model is being sold on Amazon.com for $189.95! There are a few customer reviews on there. They seem mostly positive with 48 five star reviews. Here are a few of the more positive points from customers:
I like my coffee. In fact, I freely admit to being a coffee addict. And before I say anything else, let me say that this machine makes great coffee. [Rasmus]
After less than a week with this machine I have made delicious espressos and lattes, using both pods and ground espresso beans. [Ann]
However, in some of the customer reviews, they point out a few issues and what they perceive to be design flaws, so I would recommend you have a good read of them if you want to know more.