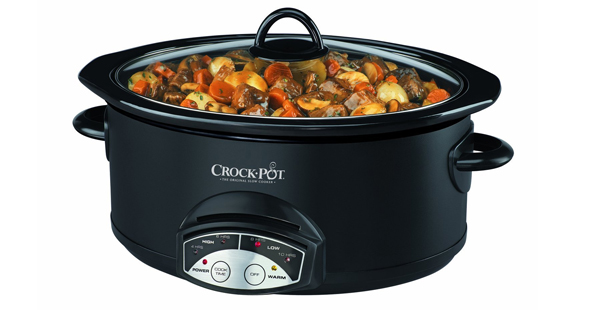 T'is the season... for quick, easy meals that are warm and hearty. There is an endless amount of recipes that can be made in a slow cooker; from sumptuous roast beef to deliciously sweet apple crisp. There are endless benefits, too. Throw all your ingredients in the pot in the morning and come home to a hot meal without any further effort. They can be stowed at the back of the counter and, with cords out of reach, make a safe alternative to hot oven doors that attract nosy little fingers. They can also really encourage healthy eating by making it faster and easier to prepare complete meals with a protein and lots of veggies. Who doesn't need all of that after the busy, indulgent holiday season?
Amazon Canada has a slow cooker by the original experts -- Crock-Pot -- marked down by 34%. The Crock-Pot 5 Qt. Programmable Slow Cooker usually sells for $52.99 but you can get it at Amazon.ca right now for only $34.98 and it will ship to you for free!
I was excited to share this deal as soon as I saw it because we love our slow cooker and use it all the time. We make soups, stews, chili, meat and vegetable dishes and casseroles. It's great to throw a bunch of stuff in there on a Sunday afternoon, let it simmer, and have lunches taken care of for the entire week. Our go-to lately has been throwing some chicken stock, diced tomatoes, onion, green pepper, beans, a protein, some garlic, chili powder and other spices together in the pot and, in no time, we've got a healthy, filling, hot chili dish! Quick and easy which is imperative with a toddler pulling on your pant leg.
This Crock-Pot is perfect for a medium-sized family as it holds about 4-5 servings. The removable pot is stoneware for durability and easy serving and cleaning (it's dishwasher safe). It's programmable, which is another handy feature. The touchpad allows you to select cook time and temperature and the slow cooker will automatically change to its 'warm' setting when cooking time is complete.
This same 5 Qt. Crock-Pot sells for $57.99 at Sears.ca, $45.96 at Walmart.ca and $67 at Lowes.ca! I browsed the slow cooker selection at Walmart and found that even the manual, off-brand cookers this size are priced at $48. So this is a pretty good little deal! Get it now, while it's hot! (Get it?!)
As your order will be over $25, it will ship for free from Amazon.ca.
(Expires: Unknown)