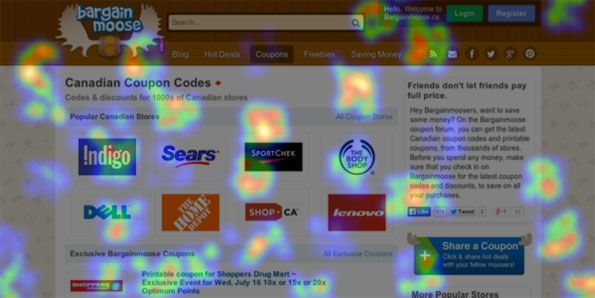 Got a website? Then find out which links your visitors click the most and which parts they spend the most time on with a Crazy Egg's visual map. Even better is that you can try it for free for as much as three months (90 days).
At our core, we're all visual people. For those of you with websites of your own, Google Analytics is fine and dandy but analyzing the data can be time-consuming and misleading. This is where Crazy Egg comes in: this nifty software allows you to see the most interesting and clicked on parts of your website with a visual heatmap. There is a huge difference between what you think is attention-grabbing and what users actually end up focusing on! To learn more, be sure to check out how Crazy Egg differentiates from other analytic services.
I have seen and used different page trackers, but what I find cool about Crazy Egg is that on top of showing you a page's most popular areas with the heatmap tool, it can also show you which parts are potentially broken (scrollmap tool), the number of clicks on a page (overlay tool) and a comprehensive overview of all the clicks (confetti tool).
If after 90 days, if you're still interested in continuing to use Crazy Egg, then there are four plans to choose from:
Basic: $9/ month for 10 active pages
Standard: $19/ month for 20 active pages
Plus: $49/ month for 50 active pages
Pro: $99/ month for 100 active pages
All of the plans come with basic features like multiple domains as well as heatmap, scrollmap, confetti, overlay and list reports. The more you pay, the more features get added such as: priority phone support, advanced filtering, mobile heatmaps etc. Plus, whereas the basic and standards plans generate daily reports, the plus and the pro ones have daily reports available.
The way I see it is that Crazy Egg is definitely worth a try, especially since it's free for three months! You can also use it to completely redesign your website in order to cater to the topics and products that specifically interest your visitors.
By the way, if you haven't checked it out yet, be sure to have a look at our coupons page for a constantly updated resource of all discounts and promotions for almost near store you can think of: from Chapters Indigo, The Bay, Best Buy, Sears, and countless others!
(Expiry: Never)