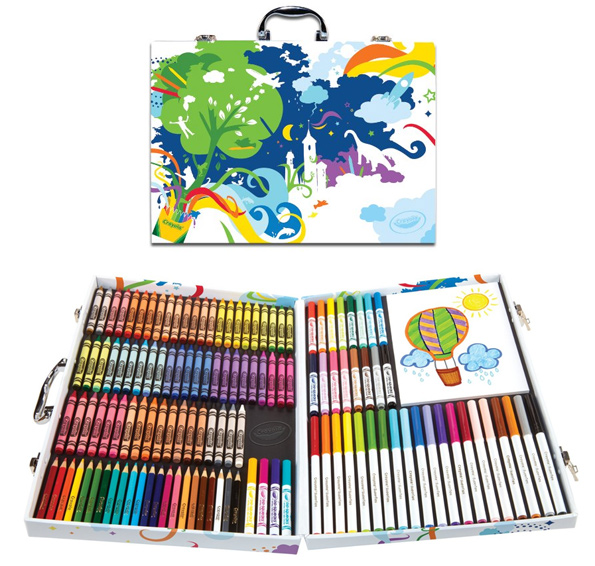 **Bump: This case is now on sale for $14.99 - that is a a $3 drop from the last sale price!**
When I was a little girl, there were two things that I always loved getting for Christmas. One was candy (of course!) and the other was art stuff! Little me would have LOVED this one in particular – it's the Crayola Inspiration Art Case on Amazon Canada. This lovely set was $29.99 and it's now down to only $17.99 $14.99!!
The Crayola Inspiration Art Case comes with more than 150 pieces… that's more than enough to keep a kid entertained for at LEAST an hour, don't you think?
Here's a quick breakdown:
Storage case with locks and handles
64 crayons
22 short coloured pencils
40 washable markers
30 sheets of paper
That looks like it has everything needed to really get someone drawing and colouring. :) And I also thought of another idea – if you're going on a road trip or mini-break with the kids, this is an ideal set to bring along with you, space permitting. It's something to take with you and have all the tools handy to keep the kids entertained.
I had a very similar set when I was young, also from Crayola. The only difference was that mine was in a red case. This case is a really bright colourful one, as you can see from the image above! The reviews on it are also very positive, with parents saying that their kids really loved this art set.
What about shipping, I hear you ask? Well, for those of you with Amazon Prime, then you will already realize that you are going to get free shipping to your home on this item, no questions asked – as this is sold directly by Amazon themselves. If you don't yet have Amazon Prime…. You really should sign up for Christmas! Otherwise, you will have to spend $25 or more for free shipping.
Prices elsewhere online in Canada - no one can compete with this price. The next best price I can see is $22.49 at Sears (plus shipping, etc).
(Expires: unknown)