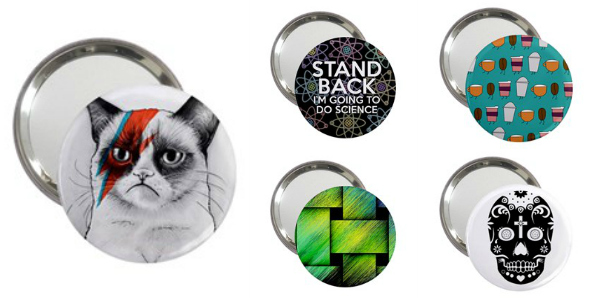 Sometimes a girl just needs a mirror to make sure her hair isn't matted after the wind, her makeup is still on after Aunt Agatha's kisses, and her mascara isn't streaked after a good cry. Now is the time to pick one up as CowCow has a special coupon code that will give you a new compact purse mirror for only 99¢ with free shipping.
Click here to shop handbag mirrors @ CowCow.com now
Coupon Code: 99CENTPMIRROR
Discount: one 2.25" mirror for 99¢ & free shipping
Expiry: Unknown
You can pick one of the designs that artists have already used or you can customize your own. I wanted a beautiful design oriented mirror instead of a picture so I chose this gorgeous black and white hand mirror that costs $21.99 regularly. Shipping would usually be $2.99, but my cart total comes down to 99 cents after coupon.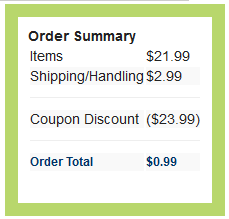 I am totally tempted by that hand mirror as it is really pretty, but black is such a pain to find inside my decidedly black purse. Therefore, I checked out a few other designs as well. This Time for coffee Handbag Mirror (2.25")certainly reflects the way most of us feel in the morning. I like the collage of different size, colour, and shaped coffee container along with the dancing coffee bean.
If nature is your thing, then try out the Branches Handbag Mirror (2.25") that retails for $14.99 usually. This hand mirror has a decidedly autumn feel to it with the beautiful bare branches intersecting.
I think one of the prettiest hand mirrors has to be the Mandala Peacock 2.25" Handbag Mirror. I have seen these Mandala patterns before (when looking at colouring books) and I find theme peaceful and serene.
For those with a good sense of humour, check out the Micro Or Macro 2.25" Handbag Mirror. It looks like an eye chart but it features acronyms like WTF and OMG. This is a super fun mirror that would usually retail for $17.99 but comes down to $0.99 in your cart.
By the way, you can pick up a 3" mirror (size selection at the top) for $1.99 with this coupon code. I prefer the smaller mirror for the smaller price, but each to their own. Thee mirrors would make excellent stocking stuffers!
(Expiry: Unknown)